The 2015 "short" 30-day legislative session agenda will task lawmakers with tackling a long docket of important issues. Policymakers will at least be spared from having to approve a budget, but over 700 bills and resolutions could be filed and certain issues already stand out.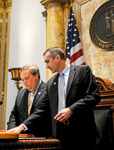 The solvency of the state's retirement systems is the largest financial specter looming over the commonwealth. The Kentucky Retirement System (KRS) faces nearly $19 billion in unfunded liabilities, and the non-hazardous state employee portion of the plan (KERS) is only 21 percent funded. The Kentucky Teachers Retirement System (KTRS) is faring better, yet may still require over $3 billion in bonds to achieve actuarial soundness. Since neither booming markets nor poorer employee benefits will shore up either system in the short term, a cash infusion appears to be the only way out. Expect heated debate about the state's debt burden and continued chatter around tax reform. Any structural budget issues are more likely to be addressed in the 2015 gubernatorial candidates' platforms.
Heroin abuse has reached epidemic levels, and the legislature intends to curb the individual and societal side effects of the scourge; at least six bills were pre-filed. Some legislators want harsher criminal penalties for trafficking and possession, while others prefer a three-pronged approach including stricter penalties but allowing substance abuse treatment and educational resources. A previous effort failed in the final seconds of the 2014 session, but an informal working group of legislators spent much of the interim attempting to craft a bill the entire General Assembly can support.
House Bill 1 is the number reserved for the majority caucus' main priority, and a constitutional amendment allowing for a temporary, local option sales tax of up to one penny is expected this year. Local Investments for Transformation (LIFT) has bipartisan support from local officials in communities of all sizes, the Kentucky Chamber of Commerce, Gov. Steve Beshear and many prominent businesspersons. LIFT passed a House committee last year and has the momentum to go all the way this year. Kentuckians statewide could get to vote on the amendment as early as 2016.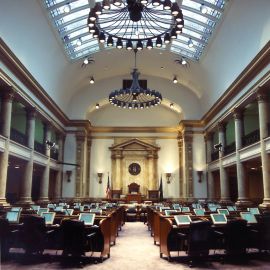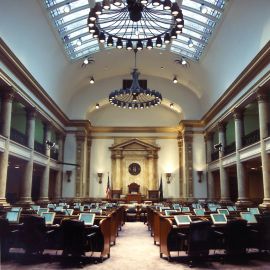 As Kentucky consumers transition from basic landline phone service toward modern, IP-enabled and advanced wireless services, consumers expect increases in data network investment and high-speed access. Only 10,000 Kentucky households still use traditional landline service. Legislation known as "the AT&T bill" will be filed again in 2015. Kentucky must modernize its laws to ensure communications companies invest in technologies that keep pace with modern needs, while honoring commitments and service levels to those customers with basic service. This legislation attempts to strike that balance.
The legislature may attempt to modernize Kentucky's alcohol laws in 2015. Like most states, Kentucky has a "three-tier system" of separate production, distribution and retail sales, which ensures smaller brewers access to distribution networks. With concerns that large companies are considering moves to squeeze small, popular craft brewers off distribution trucks and off retail shelves, the legislature will likely address that issue with a bill that prohibits vertical integration of production, distribution and retail.
The homegrown and internationally popular bourbon industry, meanwhile, is seeking legislative action to ease restrictions on how it may promote its products to the growing and enthusiastic domestic and international clientele attracted to the Kentucky Bourbon Trail distillery visitor's centers. Look for an effort to enhance that visitor experience.
Consumers love plummeting gas prices, but state and local governments experience an inverse pain at the pump. Kentucky's motor fuels tax revenues are determined by a formula based in large part on the wholesale price of gasoline. That formula has a "ceiling" when the price of gas skyrockets but no "floor" when prices bottom out. A 1-cent change in the gas tax rate has an estimated $30 million annual impact on the road fund, which pays for Kentucky transportation projects. Falling pump prices in the last calendar quarter of 2014 cut the gas tax rate multiple cents. For more predictability and better risk management, the legislature will consider bills that either raise the floor outright, create parity between the rates of increase and decrease, or do both.
The 2014 Public Private Partnership (P3) bill that Gov. Beshear vetoed for its prohibition on tolling as a project funding option is likely to come back this session. Another seemingly perennial issue, a statewide smoking ban, also will be considered; that movement, like many others in Frankfort, will continue to proceed incrementally.
Leadership in each chamber has outlined its own priorities. The House Democrats' top 2015 issues that Speaker Greg Stumbo laid out include raising the minimum wage to $10.10 per hour, legislating pay equity for women, and restoring voting rights for convicted felons. His Senate counterpart, President Robert Stivers, included among his Republican caucus' agenda items passing a right-to-work bill, regulatory schools. Legislation on those lists typically must overcome a large partisan divide before becoming law.
The 2015 General Assembly has a long way to go and a short time to get there. The pace will not be even, and uncovering the devils in the details means many of these big issues will not be resolved until the final days – or minutes – of the session. Complicating the already daunting task of legislating, statewide elections will take place later this year, and members of the competing parties often are reluctant to grant a momentum-fueling legislative victory to a rival statewide candidate. Politics always impacts policy in Frankfort. ■