Change effective July 1
MIDWAY, Ky. (March 2, 2015) — The Midway College Board of Trustees unanimously voted to change the school's name to Midway University, effective July 1.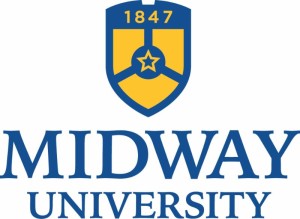 Midway University will operate with three schools (restructured over the last two years) — the School of Arts & Sciences; the School of Health Sciences; and the School of Business, Equine and Sport Studies.
The student populations served remain the same — Kentucky's only women's college (residential campus); co-ed adult undergraduate and co-ed graduate. Existing locations are the main campus in Midway and an off-site location in Lexington which provides evening classes.
Details of the move:
This is not Midway's first name change. The institution was founded as the Kentucky Female Orphan School in 1847. In 1942 KFOS became known as Pinkerton High School and Midway Junior College. In 1978 Midway Junior College officially became Midway College.
The class graduating in May 2015 will be the final graduating class of Midway College. All future diplomas will reflect Midway University.
Over this spring semester the transition to Midway University will take place with signage updates and other visual symbols changing across campus. The official effective date is July 1, 2015.
No operations will be impacted by the name change and there will be no change in our governing structure.
Athletic teams will still be Midway Eagles and the school colors remain blue and gold.
All accrediting bodies have been notified of the name change and the Council on Postsecondary Education has given approval.
Alumni who graduated from Midway College can list Midway University as their alma mater on resumes and other documents.