State created 15,000 new jobs in 2014
FRANKFORT, Ky. (March 3, 2015) — Gov. Steve Beshear today announced that Kentucky placed first nationally in Site Selection magazine's annual Governor's Cup rankings for new and expanded industry activity per capita in 2014. Site Selection editor Mark Arend presented the Governor's Cup trophy today during a ceremony at the state capitol in Frankfort.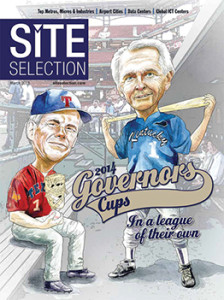 Last year, Kentucky announced more than 350 new location and expansion projects, which are projected to create nearly 15,000 jobs and more than $3.7 billion in new investment.
"Winning the prestigious Governor's Cup is a true honor," Beshear said. "Kentucky works extremely hard to build and maintain relationships with our companies, and we go the extra mile to support their plans for growth. The Governor's Cup speaks to the dedication of everyone in this state who's working to build Kentucky's economy, grow jobs and create success for our industries, our communities and all Kentuckians."
The Governor's Cup is based on the number of capital investment projects of at least $1 million, create 50 or more jobs or add at least 20,000 square feet of new space.
 In addition to the Governor's Cup, Site Selection recognizes top metropolitan and micropolitan areas for their economic development successes. The Top 10 Metro Areas Ranking includes Cincinnati/northern Kentucky and Louisville in the top tier category (population over 1 million) and Bowling Green in the tier three category (population less than 200,000).
Kentucky also had 10 communities make the magazine's Top Micropolitans list. Those communities include: Paducah, Danville, Campbellsville, Frankfort, Glasgow, Mount Sterling, Maysville, Madisonville, London and Fulton/Union City.
"We congratulate Gov. Beshear on being awarded the Governor's Cup and thank the companies that located or expanded in Northern Kentucky for their contribution to this award and our global economy," said Northern Kentucky Tri-County Economic Development Corporation (Tri-ED) president and CEO Dan Tobergte. "Northern Kentucky Tri-ED facilitated significant growth in target industries, such as advanced manufacturing, e-commerce/logistics and technology, in 2014. Automotive suppliers, advanced manufacturers and other existing industries contributed significantly to Kentucky's success in 2014."