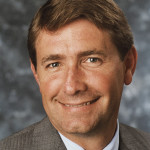 LOUISVILLE, Ky. (March 10, 2015) – Thirty-three-year Kentucky banking veteran Mark F. Wheeler will join Central Bank of Jefferson County as president in early April, Ron Carmicle, chairman of the board, announced today.
Central Bank of Jefferson County is a wholly owned subsidiary of Central Bancshares Inc., based in Lexington, which operates 26 Central Bank offices plus ATMs in Boone, Clark, Fayette, Jefferson, Jessamine, Kenton, Madison and Scott counties.
Wheeler's previous experience includes positions as regional chairman and executive vice president with responsibility for commercial banking for US Bank, and as senior vice president and manager of National Corporate Banking for PNC Bank, both in Louisville. He is a graduate of Eastern Kentucky University, with a BBA degree in finance.
"Mark has excellent banking experience and we are very excited he will be joining our organization," Carmicle said. "Our bank is poised for growth in Kentucky's largest banking market and we are confident his leadership and market knowledge are just what we need to continue our success."
Luther Deaton Jr., chairman, president & CEO of Central Bancshares said that Wheeler "will be a tremendous asset for our bank and we are very pleased he is joining our team to lead Central Bank of Jefferson County."
Central Bank of Jefferson County operates three banking centers: Hurstbourne Place, Suite 100 at 9300 Shelbyville Road; 4630 Taylorsville Road; and Waterfront Plaza at 321 West Main Street. The bank had total deposits of $166 million on June 30, 2014, and is ranked 14th among Jefferson County banks.
Central Bancshares is the holding company for Central Bank & Trust Co., Central Bank of Jefferson County, Central Insurance Services and Central Investment Center.
Central Bank serves individual consumers and small- to middle-market businesses with full-service banking, investment, mortgage, insurance and wealth management services.