LEXINGTON, Ky. (March 10, 2015) — Griffin Gate Golf Club in Lexington today announced it has broken ground on a $1 million bunker renovation project, along with a complete greens complex refinement, set for mid-May completion.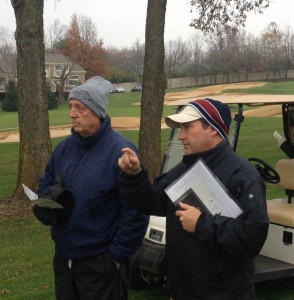 The Marriott Golf-managed course has commissioned renowned golf architect Rees Jones, the original Griffin Gate Golf Course designer, to direct the project, which will further enhance one of the premier golf experiences in the rolling hills of Kentucky Bluegrass Country. It is located at the Griffin Gate Marriott Resort & Spa.
Highlighting the project, Jones will utilize the highly successful Better Billy Bunker Method throughout the golf course. This innovative bunker system is used at a collection of the game's premier courses, including Valhalla in Louisville, Bethpage Black in New York and Hazeltine National Golf Club in Chaska, Minn., site of the 2016 Ryder Cup. The bunker system is also popular among Marriott Golf facilities, having recently been installed at The Rookery at Marco, located at the Marco Island Marriott Resort.
"I am happy to be returning to work on Griffin Gate, one of my first designs. It's like seeing an old friend after 34 years," said Jones. "1981 was quite a while back, so a bunker renovation to bring the course 'back to the future' will serve the course well. We are also re-defining the fairway lines and creating chipping areas to give the course more varied challenges. We feel the changes will maintain the popularity that Griffin Gate has enjoyed for the last three decades."
Marriott Golf manages 52 golf courses at 40 locations in 12 countries.
"We are extremely excited to have Rees Jones return to Griffin Gate and lead not only the bunker renovation, but the greens complex refinement as well," said Mark Ravenscraft, general manager of Griffin Gate Marriott Resort & Spa. "Aside of his famed expertise, no one knows the facility better, which means this project will greatly enhance a golf course already known for its competitive play, beauty and environmentally friendly appeal. Griffin Gate enjoys a tremendous history and popularity in the rolling hills of Kentucky and we are excited that Rees Jones will help to take that distinction to another level."