Aims to reduce trafficking and abuse of heroin
FRANKFORT, Ky. (March 25, 2015) — Less than twelve hours after it passed the General Assembly, Gov. Steve Beshear signed the bipartisan anti-heroin bill into law before a crowded room full of legislators, law enforcement officials and health advocates.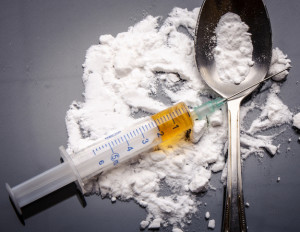 Senate Bill 192 offers multiple tactics to reduce the trafficking and abuse of heroin. Traffickers will face stiffer penalties, particularly if heroin is transported across state lines. More money is allocated for addiction treatment. A 'Good Samaritan' provision gives users legal immunity if they report an overdose victim. The bill also authorizes more use of the anti-overdose drug naloxone and allows communities the option of setting up needle exchanges.
The Affordable Care Act requires that new health insurance policies provide adequate coverage for mental health, which includes substance abuse treatment.
The bill also authorizes the Department of Corrections to provide opiod antagonists to inmates to prevent a relapse of their addiction; provides immunity from certain drug charges for individuals who seek emergency help for overdose victims, and stay with that person until that help arrives; helps alleviate risk of needle sticks to law enforcement officers; and invests in a vast array of substance abuse and criminal justice programs.
WFPL to host community conversation on heroin on April 16
LOUSIVILLE, Ky. (March 25, 2015) — 89.3 WFPL News will host a community conversation to address Kentucky's growing heroin crisis on at 6 p.m. on April 16 in The Old Medical School Building located on the corner of 1st and Chestnut Street. The event is free and open to the public. Parking is available at the YMCA Garage on Second Street.
Related news:
UofL Hospital to receive heroin/opiate overdose reversal kits