Smoking during pregnancy linked to premature birth, numerous health problems for infants
FRANKFORT, Ky. (April 23, 2015) – The Kentucky Department for Public Health (DPH) announced today the Anthem Foundation will award nearly $140,000 to the department to help address the issue of tobacco use and pregnancy.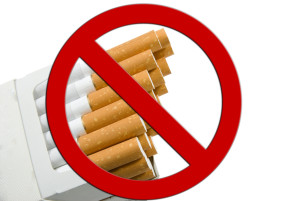 The grant award will help fund the Giving Infants and Families Tobacco Free Starts (GIFTS) program, which was created to help decrease the number of women who smoke during pregnancy and reduce exposure to secondhand smoke for the pregnant woman and her infant. With the funding, GIFTS will be implemented in Christian, Hopkins and Madison counties.
"Tobacco use is a serious problem in Kentucky, but it is an even more serious issue for women who smoke during pregnancy," said Dr. Ruth Shepherd, director of the Division of Maternal and Child Health for DPH. "Smoking during pregnancy and infant exposure to secondhand smoke create numerous risks for babies, including prematurity and low birth weight and risks for developing certain conditions like asthma."
Smoking during pregnancy has significantly declined in Kentucky over the past decade. According to DPH, smoking rates dropped from 26.3 percent of pregnant women in 2004 to 21.9 percent of pregnant women in 2013.
Even with the decline, Kentucky's rate of women who smoke during pregnancy remains among the highest in the country. Meanwhile, smoking before and during pregnancy is the single most preventable cause of illness and death among mothers and infants (Centers for Disease Control and Prevention, 2007).
In 2013, 13.3 percent of Kentucky births to mothers who smoked during pregnancy were preterm compared to 10.2 percent of births to mothers who did not smoke. Similarly, 13.6 percent of births to smokers were low birth weight compared to 7.5 percent of births to non-smokers.
"GIFTS utilizes evidence-based support and educational materials to engage pregnant and postpartum women to take a proactive role in modifying their smoking behaviors," said Dr. Shepherd.
In February 2014, Gov. Steve Beshear launched the kyhealthnow initiative, which set seven goals to be achieved by 2019 to improve the overall health of the state. Reducing Kentucky's smoking rate by 10 percent is one of the goals of kyhealthnow.
"Reducing the amount of tobacco use and secondhand smoke exposure is not only crucial for improving the health of our state, but it is one of the goals of the kyhealthnow program," said DPH Commissioner and kyhealth Vice Chair Dr. Stephanie Mayfield. "We are thrilled to receive this grant from the Anthem Foundation and look forward to building on the success of GIFTS and working toward reaching our state's health goals."
"Anthem is committed to helping improve the health of Kentuckians," said Deb Moessner, president of Anthem Blue Cross and Blue Shield in Kentucky. "We are proud to support Gov.  Beshear's health initiatives through our grant for this program," "Helping expectant moms and their babies become smoke-free is a step toward making Kentucky communities across the state healthier."
The components of the GIFTS program include:
·         Five A's: Ask, Advise, Assess, Assist and Arrange, a screening tool for assessing tobacco dependence.
·         Screening for depression, social support and domestic violence.
·         Biochemical validation of tobacco dependence.
·         Individualized counseling and support, as well as a referral to the Quit Now Kentucky Quitline Pregnancy/Postpartum Protocols, a service that is available through the Quit Line to Kentucky residents ages 15 and older who are pregnant
·         Educational materials, including relapse prevention and the risks of secondhand smoke exposure in the home.
The Christian County Health Department, Hopkins County Health Department, Baptist Health Madisonville, and Madison County Health Department will partner with DPH to administer GIFTS at the local level.  These sites are ready to recruit participants into the program.