A compilation of economic news from across Kentucky
BOWLING GREEN: General motors Revs up Kentucky ops with $439 Million Expansion of Corvette plant
General Motors is investing $439 million to expand its Corvette Assembly Plant in Bowling Green.
The project will include construction of a 450,000-s.f. paint operation that will be nearly half the size of the company's entire Bowling Green operation.
The paint shop will receive substantial upgrades in technology, including new tooling, robots and state-of-the-art environmental and efficiency enhancements. Construction begins this summer and is expected to take approximately two years to complete. Vehicle production schedules will be unaffected by the construction.
The investment builds on approximately $135 million invested in the plant over the last four years for the new seventh-generation Corvette and Performance Build Center, which in March began hosting customers in the Build Your Own Engine program. In April, GM announced it would invest $5.4 billion in its U.S. facilities over the next three years.
GM began production of the Corvette at the Bowling Green plant in 1981, and the facility has remained the exclusive home of the Corvette for over 30 years. The Corvette is the world's longest-running, continuously produced passenger car with more than 1.6 million assembled. Corvette sales reached 38,000 last year, and the plant hit a record year for public tours in 2014, welcoming almost 56,000 visitors from around the world.
NORTHERN KENTUCKY: Northern KY chamber will help create national workforce development plan
The Northern Kentucky Chamber of Commerce's foundation, Impact NKY, has been selected as one of seven regional partners to participate in the U.S. Chamber of Commerce Foundation's Talent Pipeline Management initiative to close the skills gap in America.
Launched in November 2014, the initiative seeks to transform the relationship between America's businesses, educators and workforce providers by testing the expansion of strategies and practices that have been successful in improving products and services to address challenges in workforce development related to recruiting, hiring and retaining employees.
"This initiative is focused on new approaches to ensuring employers have the skilled workforce they need to compete in the 21st century and employees have the education and credentials required to do the work," said U.S. Chamber of Commerce Foundation Vice President Cheryl Oldham. "With 5 million vacant jobs in the United States, the frustration level has understandably reached a new high among businesses desperate for skilled workers and with students who want to know that their education and skills training will lead to a good job and future success."
The Talent Pipeline Management learning network will operate like a new product test team, experimenting with different strategies and innovative practices to confirm what works and what doesn't. Each partner within the learning network will pilot one or more talent pipeline practices.
The research and input collected from the learning network will help complete the development of a talent pipeline management toolkit that will be released nationwide in the fall to employers.
LOUISVILLE: UofL partners with UL to open Center for 3D Printing training
A new facility set to open this fall at the University of Louisville will train engineers and other professionals from around the world on sophisticated 3D printing and other additive manufacturing machinery.
The University of Louisville has teamed with global safety science organization UL LLC to open a 3D printing training facility, which will be called the UL Additive Manufacturing Competency Center.
UL AMCC will offer hands-on training in additive manufacturing for metals and curriculum covering design set up, design corrections, machine set up, part production, post-processing and parts inspection, testing and validation. The training will allow professionals to understand how to produce metal parts and emerging materials through additive manufacturing, establish safety systems, identify hazards from materials and machines and manufacture parts with safety built into designs.
As additive manufacturing technologies rapidly evolve, UL AMCC will update course curriculum and introduce new content every six to 12 months. Looking forward, UL will develop a formal workforce additive manufacturing certification program during 2016 to help designers, engineers and operators expand from traditional manufacturing techniques into additive manufacturing techniques.
"We anticipate the UL AMCC will expand over time to take on additional innovations to advance manufacturing," said Simin Zhou, vice president of Digital Manufacturing Technologies at UL. "As additive manufacturing gets deeper and more integrated into production lines, the training center will evolve real time to arm workforces with the most up-to-date knowledge and best practices."
The center will open this fall on a site adjacent to the UofL campus. The goal is to train 100 workers before the end of the year and steadily grow that number to around 900 students by 2019.
ELIZABETHTOWN: Hendrickson opens new plant, more expansion to come
State and local leaders joined Hendrickson USA officials in late April to celebrate the opening of a new facility in Elizabethtown as well as the company's announcement that it is planning yet another expansion.
Hendrickson is a leading global manufacturer and supplier of medium and heavy-duty suspension systems, axle systems, springs and stabilizers, and bumper and trim components. The company has two existing operations in Somerset and Lebanon, currently employing just under 700 Kentuckians.
When Hendrickson announced plans to build a highly advanced facility in Elizabethtown last year, the global manufacturer intended to create 75 jobs and invest $20 million in the project. With the announcement of further expansion, the project will involve an additional $19 million investment and the hiring of 21 more employees.
The Elizabethtown site will manufacture products to supply the company's operations in nearby states. Hendrickson plans to add a second 50,000-s.f. building next to its existing 100,000-s.f. facility in the T.J. Patterson Industrial Park. The new building will allow the company to add processing equipment.
STATE: Ky Ag department launches an "ambitious agenda" of hemp projects
The Kentucky Department of Agriculture has announced what it called an "ambitious agenda" of industrial hemp research projects and economic development initiatives for Kentucky that includes 121 hemp pilot projects. The approved projects total 1,724 acres to be planted.
In announcing the initiative, Ag Commissioner James Comer said, "We want to make Kentucky synonymous with hemp like Idaho with potatoes….Hemp equals jobs and economic development."
Steve Bevan, chief operating officer for GenCanna Global of Lexington, said the company employs more than 40 people in Kentucky and plans to add more jobs in the future.
Mark Rosenfeld, CEO of ISA Scientific, a Utah company that develops cannabinoid-based health products, said ISA will work with GenCanna to develop medicinal products derived from industrial hemp.
"We strongly believe that this partnership paves the way for substantial improvements in treating chronic, debilitating and life-threatening health conditions," Rosenfeld said. "We are enthusiastic, deeply committed and greatly encouraged that thought and policy leaders of Kentucky have the vision and foresight to at long last support the translation of industrial hemp chemistry into legitimate human therapies for costly conditions that are not only destroying lives but are eroding economies worldwide."
Andy Graves, CEO of Atalo Holdings, a holding company for three hemp businesses, said, "No one else is doing what Kentucky is doing." Atalo, one of the largest hemp growers in the state, and GenCanna are working together to create a hemp "campus" at the former F.W. Richard seed facility in Winchester.
The industrial hemp pilot projects are intended to generate data on production methods, seed varieties, harvesting and processing techniques, and uses for harvested hemp.
STATE: Economic impact of tourism in Kentucky tops $13B for first time
According to a new report, the economic impact of tourism in Kentucky amounted to nearly $13.1 billion in 2014, a 4.4 percent increase from 2013 and the first time the tourism impact figure has exceeded $13 billion.
The economic impact of tourism has increased by more than $2.2 billion over the past five years, resulting in more than 13,000 jobs.
All nine tourism regions of the state reported increased tourist spending for 2014.
Tourism supported 179,963 jobs in Kentucky in 2014, an increase of 4,217 jobs from 2013. Those jobs generated more than $2.9 billion in wages for Kentucky workers, an increase of nearly $123 million from the previous year.
Tourism generated $1.37 billion in tax revenues for local and state governments in 2014, an increase from $1.31 billion in 2013.
FRANKLIN: Pitch your business idea at annual entrepreneur competition
The Kentucky Innovation Network has kicked off its second annual entrepreneur pitch competitions, giving Kentucky entrepreneurs the chance to present their business ideas to a group of local angel investors.
Winners of the competition will receive cash prizes and the opportunity to present their business plans to the entire Kentucky Angel Investors Network in November.
"The success of last year's pitch competitions exceeded our expectations, and we expect even bigger things this year," said Mandy Lambert, commissioner of business development at the Kentucky Cabinet for Economic Development. "This is a great opportunity for entrepreneurs to network with potential investors and get their businesses off the ground. We want to expose more people to investment opportunities right here in the commonwealth."
This year, the Kentucky Innovation Network will host 11 regional competitions in Ashland, London, Morehead, Pikeville, Murray, Elizabethtown, Richmond, Covington, Lexington, Paducah and Louisville. For details on participating, visit kyinnovation.com/pitch.
SIMPSONVILLE: Isopure to invest $5.3M to expand medical device plant
Isopure, a company that designs and manufactures medical devices for dialysis patients, is investing $5.3 million to expand its operations in Simpsonville.
The company plans to build a new 56,000-s.f. facility in Simpsonville's Kingsbook Commerce Park to support its receiving, manufacturing and national shipping operations.
Isopure currently employs a workforce of 22 and plans to add 30 new full-time jobs to support the expansion.
Isopure's growth is a direct result of a research and development project upgrading two of the five FDA-registered devices the company manufactures. The project began in 2012, which resulted in the most technologically advanced devices available for use in chronic kidney disease treatment. The devices will be manufactured in Simpsonville and shipped all over the country.
Company officials said one of the reasons they chose Kentucky was because of its easy access to large population areas in the United States, such as New York, Chicago, Houston and Miami – an important factor to the company as it installs its equipment. The site's proximity to the UPS Worldport hub in Louisville allows the company to easily ship replacement parts from Simpsonville to anywhere in the United States.
LOUISVILLE: UofL student team wins global business plan competition
A University of Louisville College of Business student team marketing a wireless laryngoscope won the top prize last month at Global Venture Labs Investment competition in Austin, Texas. The UofL team competed against 38 teams from countries around the world.
Inscope Medical Solutions team members Maggie Galloway, Mary Nan Mallory, Adam Casson and Will Coburn have been perfecting the OneScope, an airway management device that can be used to safely intubate patients in ambulances, helicopters, hospitals and surgery centers. Mallory, a physician and professor in UofL's School of Medicine, co-invented the device and the university's Office of Technology Transfer licensed its technology.
The team's prize for winning the competition includes a $25,000 cash prize, a $25,000 incubator package and consulting time with the director of Jon Burmlay Texas Venture Labs.
Inscope's latest win raises its total contest earnings to $327,000. Earlier this year, the team won $133,000 at the Rice Business Plan Competition in Houston; $4,000 at the Oregon New Venture Championship in Portland, Ore.; and a $15,000 cash prize and $100,000 startup package at the Brown-Forman Cardinal Challenge.
EASTERN KENTUCKY: $7.5M grant offers re-employment services for miners
The U.S. Department of Labor has approved nearly $7.5 million for the Eastern Kentucky Concentrated Employment Program (EKCEP) to continue its services to assist laid-off coal miners in Eastern Kentucky.
The grant will allow EKCEP to bring critical services like expert career advising, job placement assistance, and training referral and enrollment to additional unemployed Eastern Kentuckians affected by the region's economic downturn and coal-industry decline – similar to EKCEP's Hiring Our Miners Everyday (H.O.M.E.) initiative.
Unlike the H.O.M.E. initiative – which could only serve out-of-work coal industry workers and their spouses—the new grant will allow EKCEP to provide services to approximately 685 workers laid off between January and December 2014 in employment sectors outside the coal industry that also experienced declines due to the shrinking coal economy. These sectors include retail, heavy equipment sales and service, and manufacturing, among others.
Training will focus on equipping workers for jobs in the area's high-growth and high-wage sectors that are aligned with the priorities of the region as it moves toward a digital economy, such as careers in information technology (IT). Other high-growth sectors will also be emphasized.
Funded by an $11.3 million National Emergency Grant, EKCEP's H.O.M.E. initiative has already served nearly 2,300 former miners and their spouses since 2012. Through that assistance, more than 1,100 of those former coal industry workers have obtained new employment.
SOMERSET: $4M EOS USA customer call center brings 150 jobs to region
EOS USA, a company that specializes in customer care and accounts receivables management services is investing nearly $4 million to open a customer call center in Somerset that will bring 150 new jobs to the area.
EOS USA is a subsidiary of a Germany-based EOS Group, which is worldwide leader in the receivables management and outsourcing industry. EOS Group operates 50 companies in 26 countries and has more than 8,500 employees. EOS USA employs more than 1,000 people in North America.
The company's new facility in Somerset will serve as its flagship national location for first-party business. The 20,000-s.f. center is slated to be operational by the end of the year.
"This is a significant boost to the economy here in Eastern Kentucky," said Gov. Steve Beshear. "While we still have plenty of work to do, the fact that an industry-leading company such as EOS USA would bring 150 jobs here shows we're gaining strong momentum. EOS USA will be a tremendous corporate partner to the commonwealth, and I'm excited for its future in the region."
ERLANGER: DHL Rolls out plans for $108 Million Expansion of CVG Hub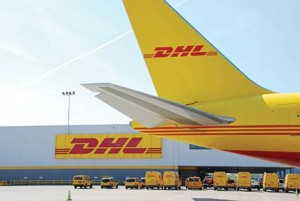 Logistics giant DHL is investing $108 million to expand its Americas hub at the Cincinnati/Northern Kentucky International Airport to meet growth in international ecommerce and global trade.
The expansion will provide more gates and warehouse space along with new equipment to provide more capacity for sorting shipments and unloading/reloading aircraft. The projects are expected to be completed by late 2016.
The CVG hub, one of three DHL global hubs, connects the United States to the DHL global network spanning Asia, Europe and the Americas. Processing approximately 46 million international shipments annually, the CVG hub handles shipments bound for the United States, Canada, Mexico and Latin America. The hub also connects nearly 100 service centers, gateways in Los Angeles and New York, and a hub in Miami to more than 220 countries and territories around the world. DHL's two other global hubs are in Leipzig, Germany and Hong Kong.
With this new investment, DHL will have invested $280 million in the CVG hub since establishing its U.S. international operations center at the Cincinnati/Northern Kentucky airport in 2009. Staffing has grown from 1,600 in late 2009 to approximately 2,000.