More than 200 attendees at AutoVision, an inaugural conference by the Kentucky Automotive Industry Association last month focusing on the sector's future, heard they can keep their feet on the gas pedal.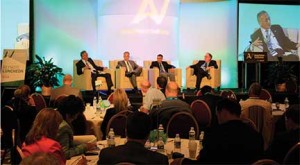 "Be thankful you are in the United States and in the auto industry," said Mustafa Mohatarem, chief economist for General Motors.
The U.S. economy, though far from its best self since the Great Recession, is stronger and healthier than any other around the globe, especially any of its chief rivals. And the auto market, Mohatarem said, is about to begin three years that will rewrite sales records.
Probably the chief concern of the auto industry in Kentucky is ensuring that it has an adequate ongoing supply of skilled workers. It is also a primary issue for automakers around the world, AutoVision's audience heard.
The industry has workforce worries that education systems in Kentucky and elsewhere are not producing enough electrical and computer engineers to create the connected systems that self-driving cars will require if they are to fulfill growing expectations of dramatically lower traffic accident and fatality rates.
In the meantime, Canada and Mexico are producing vehicles at all-time record numbers, the 33-year GM veteran said. And better yet, light-vehicle makers in the United States are about to experience three very fat sales years, in the estimation of GM's global economic experts.
U.S. sales are nearing the record level achieved 14 years ago, but Mohatarem said those 2001 sales were artificially inflated because the auto industry then was heavily reliant on customer incentives – price cuts or rebates – whose costs also were at all-time high levels.
Mohatarem said GM's expectation is that vehicle sales in the United States will peak in 2016, setting a new record, then stay at just below that level in 2017 and 2018.
The seasonally adjusted annual sales rate for U.S. vehicles in August, Automotive News reported, equates to 17.8 million vehicles for a year. September sales posted an impressive SAAR of 17.7 million.
On Oct. 1, TrueCar.com raised its 2015 industry sales forecast by 200,000 to 17.4 million, which would top the industry's all-time high of 17.395 million, set in 2000.
And that is very good news for Kentucky's auto industry, which includes Toyota's largest vehicle assembly plant in North America, GM's expanding Corvette plant in Bowling Green, two Ford assembly plants in Louisville where production and employee numbers are growing, and more than 470 automotive-related supplier operations that support 136,500 jobs in the commonwealth.
"This time it is much better" than in 2001, Mohatarem said, because sales are not reliant on incentives that, while they keep production lines operating, produce artificial demand and little bottom line profit with which to reinvest. Additionally, the economy driving U.S. vehicle sales today is doing so in a manner that the industry is confident is sustainable.
The low, slow growth since the Great Recession – when sales collapsed and U.S. carmakers themselves nearly failed – is built from a reliance on low interest rates by financial and monetary policy makers, Mohatarem said. While it has taken a longer time and created lower GDP growth than everyone would like, that growth is the product of organic marketplace demand.
By contrast, he said, China has had 10 percent annual GDP growth since 2002 and been "the dominant contributor to global growth," but it did so using artificial financial stimulus. Government spending for massive Chinese infrastructure and housing projects created economic growth and markets for raw materials and consumer products, but it was a "false demand" that built industrial capacity far beyond what its private-sector markets can absorb.
"China has huge excess capacity of steel especially," Mohatarem said.
Its growth has slowed significantly and is likely about 4 percent, he said, not the 7 percent that China's government claims officially. The surprise 3 percent Chinese currency devaluation in August that continues to reverberate in stock markets reflects its economic distress. Though it makes China's products cheaper, and other countries might devalue their currencies also to compete – increased trade friction is likely, Mohatarem said – this and other global financial trends are indications of the strength of the U.S. economy and are working in its favor.
Although many Americans worry the $3.5 trillion in U.S. assets, mostly Treasury bills, that China holds gives it a strong hand, Mohatarem explained that this restricts China's options to game trade by further devaluing the yuan. The 3 percent devaluation improved the price competitiveness of their exports but cost the Chinese more than $100 billion in value on those U.S. assets.
Another significant world economy and rising U.S. rival, Brazil, has gone into a deep recession, Mohatarem explained, because it had shifted its economic policy focus strongly toward China, whose high GDP growth had made it look like a better market for Brazilian commodities and other products.
The Russian economy is in recession also due to its reliance on high oil prices, which have halved in the past couple of years as a result of hydraulic fracturing technology adding millions of barrels of shale oil production. Most of that comes from the United States, which has become the world's largest petroleum producer.
"It is a huge revolution," Mohatarem said, who sees "no path out of recession for Russia."
In a wide variety of AutoVision presentations on the future of the industry, there was much discussion that self-driving vehicles are only several years rather than decades away. "Adaptive" cruise control technology on some current models makes them nearly driverless. What is lacking, however, are systems that give vehicles digital connectivity to one another and to the roadways.
This is generating anxiety among industry human resources officials and planners about a sufficient number of engineers graduating from colleges in Kentucky and elsewhere to work on creating and enhancing those systems.
The industry is concerned about its access to enough skilled workers, period. A global survey found 50 percent of industry members saying they have serious worries that they will be able to fill their jobs with qualified workers.
The Kentucky Federation of Advanced Manufacturing Education program, developed from a collaboration beginning several years ago between Toyota officials in Georgetown, Ky., and Bluegrass Community Technical College in Lexington, is the premier initiative to build a skilled workforce pipeline.
Kim Menke, manager of community and government relations at Toyota Motor Engineering and Manufacturing North America, is chairman of the KY FAME board. U.S. manufacturing as a whole expects to fill 3.5 million jobs in the next decade, he said.
"We are looking at a 2 million worker deficit," Menke said.