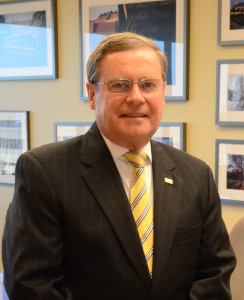 HEIGHLAND HEIGHTS, Ky. — Northern Kentucky University's Gerard "Gerry" St. Amand completed his first day as interim president on Monday. Amand, the former Dean of the Chase College of Law, was elevated to the top post when Geoffrey Mearns left to become Ball State University's next president.
Amand reached out to students, faculty, staff, alumni and community supporters on his first day. St. Amand reflected on his time at NKU and his role in guiding the university during this time of transition.
"When I was asked to serve in this interim role, it was made clear that no one wants a transition period of simply 'marking time' waiting for the next president – certainly our students can't afford that and neither can the region we serve," Amand said. "Rather, we must keep charging forward to advance all of our strategic priorities. My team and I will work to ensure that upon the successful conclusion of our presidential search, our new president is able to leap confidently upon a speeding train rather than having to labor needlessly to restart our engine.
"I look forward to the next several months working together to maintain our momentum and to ensure a successful presidential transition for the university we all love."
St. Amand joined NKU Chase College of Law as Dean and Professor of Law in 1999. In 2006, St. Amand was selected to serve as NKU's Vice President for University Advancement, a position he served in until 2013 when he elected to return to the law school in a full-time teaching capacity. St. Amand postponed retirement to serve as interim president after Geoffrey S. Mearns announced he was leaving the University.
NKU's presidential search committee is working with Isaacson, Miller to conduct the process of selecting the University's sixth president.