By Russ Brown
Imagine seeing $15 million worth of state-of-the-art bicycles in one place. Journey down to the Great Lawn on the Ohio River waterfront in Louisville this fall to make it reality.
Because the Great Lawn is the transition area for participants in the Louisville IRONMAN, which consists of 140.2 miles of swimming, biking and running, the competitors' bikes are parked there the evening before. And the average worth of the bikes the 3,000 serious athletes will use is $5,000 each.
The IRONMAN has become the signature event for the Louisville Sports Commission, which recruits, promotes, plans and oversees "inbounds sports travel" to the city. This year the IRONMAN has moved from summer to fall, Oct. 15, to take advantage of cooler weather. It offers 40 qualifying spots for the 2018 World Championship in Hawaii.
The IRONMAN is one of about 70 events the commission attracts annually, generating $50 million in local economic impact. Since its inception in 1999, it has supported 700-plus sporting events with a nearly $500 million impact.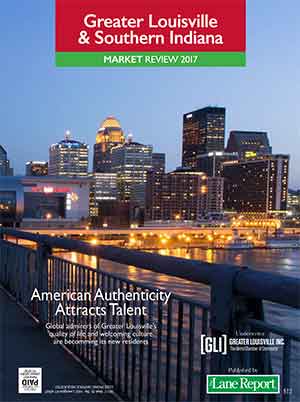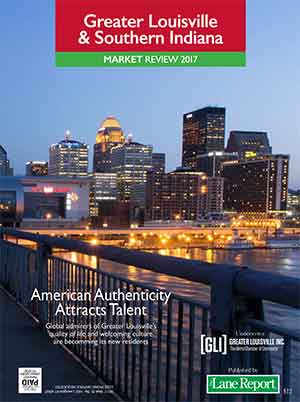 Louisville primarily competes regionally with Nashville, Cincinnati, Chicago, Indianapolis, St. Louis and Columbus, Ohio, to land sports events. Schmitt feels the city is well-positioned for a variety of reasons, and past performance and repeat business justify that opinion.
"Our assets are facilities, attitude and track record," President/CEO Karl Schmitt Jr. said. "With the (Kentucky) Derby, Breeders' Cup and PGA Championships, we've shown we can host huge events."
The organization is a not-for-profit corporation with a 33-member board including leaders from area businesses, government, civic and sports groups. With a $1.5 million operating budget and eight staffer, the commission owns and operates eight events itself, including three running races in the fall and the Paul Hornung Award presented annually to the most versatile player in college football during a banquet in Louisville.
Schmitt, who is in his seventh year as commission president and CEO, said the eight events generate about $250,000 profit, which is all put back into the operation.
Inbound travel sports include soccer, softball, baseball, cross country and others. This year, among major events, the commission landed the National Wheelchair Basketball National Championship, the Ohio Valley Volleyball Bluegrass Tournament, the USA BMX Bluegrass Nationals and the National Archery in Schools National Tournament, all of which will involve a total of more than 20,000 participants.
"Inbound sports is a big business," said Schmitt, who was senior vice president for corporate communications at Churchill Downs before taking the commission position. "People come here along with their family and fans and they stay in hotel rooms and spend money in restaurants, bars and attractions. It's kind of like a convention business."
The commission also works closely with Louisville's three universities, which comprise all three NCAA Divisions – University of Louisville (DI), Bellarmine (DII) and Spalding (DIII). In bidding for the next four-year cycle of events in a wide range of sports, the commission has applied for 56 championships, large and small.
In spring 2017, it aided the Louisville Bats Triple A baseball club in hosting the Atlantic Coast Conference Baseball Championship.
Selling Louisville is not difficult
Besides its history and facilities, Schmitt said Louisville has been successful attracting so many diverse sports because of its central location, a strong mix of hotels from budget to high end, a great restaurant and bar scene, and ease in getting around. And the city stacks up well in competing on a national scale too.
"Why would anyone want to come here rather than Atlanta, Chicago, Dallas?" he asked. "Because we have those quality things that add up to the great experience people are going to have. One of the things we know about Louisville is, if you can get people here they go, 'Wow, man, this is a cool place.' When you get the rights-holders into town and they get an opportunity to see the city, that's a big part of the sales for us. Once you get people here, it's not hard to convince them to bring their event here."
The commission's mission includes promoting an active lifestyles as a way to help solve health problems in the community and helping brand Louisville as a great place to live and work in support of talent attraction and retention for local employers.
Commission assistance isn't much needed for major sports events such the Derby, Breeders Cup and PGA tournaments, and UofL handles many of the NCAA and ACC events it hosts.
Churchill Downs has hosted the Breeders' Cup eight times, most recently in 2011, and has been selected to host again in 2018. The KFC Yum! Center is the home court of the UofL men's and women's basketball teams, the site of big-name concerts, and has held men's and women's NCAA basketball tournament games and the NCAA women's volleyball tourney.
The Kentucky Fair & Expo Center and Freedom Hall host numerous trade shows and concerts, and the Kentucky International Convention Center downtown is currently undergoing a $208 million redevelopment project that will make it a much more attractive event venue. It is scheduled to reopen in summer 2018.
There are also plenty of opportunities for sporting and outdoor recreation, highlighted by The Parklands of Floyds Fork, a new and ongoing project that includes four major parks linked by park drives and a first-rate urban trail system. It has 100 miles of new trails for hiking and biking, 19 miles of canoe trail, children's playgrounds, walking paths and facilities for picnics and community events.
E.P. "Tom" Sawyer State Park in eastern Jefferson County is recognized for one of the best high school and collegiate cross-country courses in the country, plus a wide range of facilities offered by Metro Parks and Recreation.