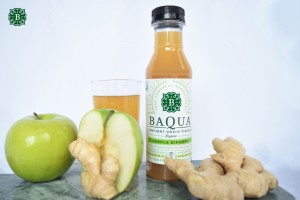 LEXINGTON, Ky. (Sept. 7, 2017) — Lexington-based Baqua, the first major brand in the United States to manufacture an organic, ancient grain infused drink, has been chosen by Kickfurther, the revolutionary crowdfunding platform that connects individual investors to small business owners with inventory funding and Amazon distribution needs. This newly designed platform is poised to disrupt the beverage industry and quickly open access to scores of innovative brands ready to enter the market.
Baqua is KY Proud, bottled and manufactured in Louisville and headquartered in downtown Lexington. Today, Baqua distributes 3 flavors – Lemon Mint, Blueberry Pineapple, Apple Ginger – and has a 4th flavor, Cherry Lime, expected to hit shelves next week.
"We're a case example of a great on-trend beverage concept in which the only missing piece to the puzzle is distribution and scalable funding," said Baqua's CEO Sandra Marlowe. "Great products have been known to fail primarily due to inventory financing. With Kickfurther, that will soon become a thing of the past."
"There is literally no cap today on consumer interest in healthy beverages," said Marlowe, "and with this new partnership, our years of research to create Baqua's proprietary blend of ancient grain infused drinks can now succeed to deliver what consumers clearly are demanding."
Kickfurther launched this initiative in 2017.
"We are excited to combine the appeal of Baqua's delicious drinks with Kickfurther's one-of-a-kind inventory finance platform," said Sean De Clercq, Kickfurther CEO.
About Kickfurther
Kickfurther is a leading inventory crowd-funding platform that connects companies with individuals seeking to support businesses and earn profit. Our platform enables productive growth-oriented companies seeking capital to finance production to share their sales opportunities with buyers interested in putting their money to work in the retail supply chain.
Businesses post Consignment Opportunities (Co-Ops) by choosing the amount of inventory capital they need, the profit percentage buyers will earn as the inventory is sold, and a projected timeline based on sales history. Since its 2015 launch, Kickfurther has funded more than $5.05 Million in 226 Co-Ops by more than 170 companies. Their users have earned an average greater than 2% consignment profit per month on completed Co-Ops.
For additional information, please visit Kickfurther.com.
About Baqua
Baqua is the first major brand in the United States to manufacture an organic, ancient grain infused prebiotic drink. Baqua contains no added sugars, artificial ingredients, or preservatives, and is a source of prebiotics, antioxidants, vitamins, and electrolytes. Baqua beverages are a crafted blend of ancient grain infused tea and USDA Organic fruit juice. Baqua helps nurture the power of your body's immune system.
For additional information on Baqua's Crowdfunding initiative, please visit www.baqua.com/info.