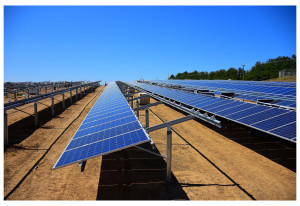 WINCHESTER, Ky. (Sept. 13, 2017) — The U.S. Department of Agriculture Rural Development has approved a grant to East Kentucky Power Cooperative (EKPC) to help fund the construction of a solar farm in Clark County.
USDA Rural Development announced a grant of $262,637 through its Rural Energy for America Program (REAP) Renewable Energy and Energy Efficiency Loan and Grant program.
EKPC is constructing a 60-acre solar farm on its headquarters property adjacent to Interstate 64 between Lexington and Winchester. When completed later this year, the $18 million facility will feature 32,300 solar panels.
Members of EKPC's 16 owner-member electric cooperatives can participate in the solar farm by licensing solar panels. Learn more at www.CooperativeSolar.com.