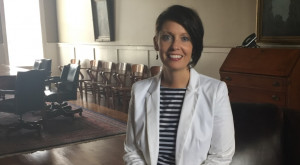 LANCASTER, Ky. – (Dec. 20, 2017) – Lisa Clark has been named to a new Loan and Business Development role at First Southern National Bank in Garrard County. Clark rejoins the Lancaster team after serving for more than four years in other areas of the bank.
"One thing that makes First Southern different is the commitment we see out of our teams. We have folks that have been with the bank for 20, 30, even 50 years," said Chief Banking Officer, Alex Keltner. "With Lisa, you'll find this same level of commitment in everything she does – in deed, in service and in caring for our customers."
Lisa Clark has been with First Southern National Bank since 2003 having served in many areas of the bank throughout her tenure including home loan underwriting and loan review. She is a recent graduate of First Southern's Emerging Leaders program where she participated in personal growth exercises and studies in leadership philosophy.
"I say this a lot, but I like our team," said Arnie Akers, community president of First Southern National Bank. "Lisa is a welcomed addition to the Lancaster team and is already adding lots of value."
First Southern offers competitive loan options for every need. To learn more about First Southern National Bank's loan products, visit www.fsnb.net/loans.