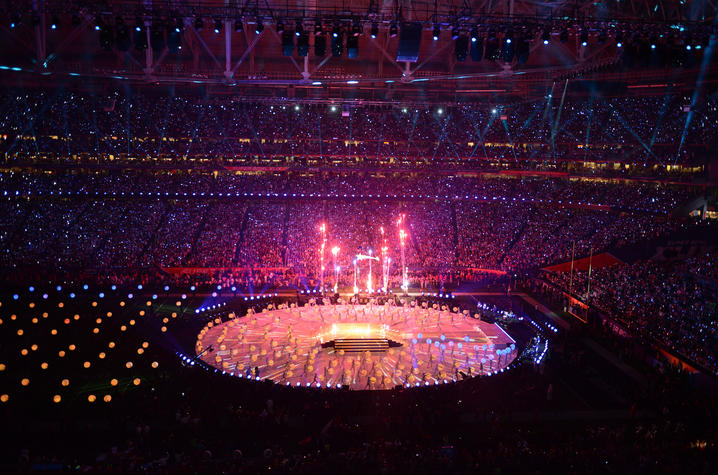 LEXINGTON, Ky. (Feb. 2, 2018) — When people ask James Casalino, "What do you do?" he's not always sure how to respond. "That's a great question …" he replies. Entertainment engineering extraordinaire seems to be the best fit. Casalino turns what seem like impossible ideas into reality for some of the world's biggest stars.
"When I get to see something that only existed in my head then sitting in front of me or on television, it's amazing," the University of Kentucky mechanical engineering alumnus said. "It's amazing to be able to see that thought become reality."
From automated giant drawbridges to multi-story audience structures, if Hollywood needs a spectacular set or special effects, Casalino and his colleagues at All Access Staging Productions in Los Angeles get the call. TV shows like "Dancing with the Stars" and "Love Connection," and concert tours for Eminem, Jay Z, Rihanna and Rascal Flatts are just a few of the projects Casalino has worked on over the years.
But his favorite project he's worked on tops the list as the biggest entertainment event of the year — the Super Bowl halftime show. This year will be All Access' ninth year for designing and constructing the set.
"The halftime shows really push the extremes of what you can do," Casalino said. "Being able to make giant structures that assemble themselves for a very quick setup time and then have to disassemble and get off the field immediately — it challenges what we can do with the tools that we have, and I really like that challenge."
Casalino recently moved into a new sales role at his company, working with clients to develop ideas and with the design and fabrication team to produce those ideas.
"There wasn't a class in exactly what I do, but without the things that I learned here at UK, I wouldn't have been able to do the things that I'm doing now," the 2005 graduate said.
More than a diploma on his office wall, Casalino's degree was an experience of merging two distinct interests and creating his own path to success, although he wasn't always sure where that would lead him. He grew up involved in theater and loved television shows and movies but chose to study mechanical engineering.
When the time came around to complete an internship for credit, he realized he could find a career that drew from both of his passions, with help from professors, advisors and the James W. Stuckert Career Center.
"UK was entirely supportive of my nontraditional engineering plan," he said.
Looking back, the three most important skills he learned at UK were how to approach really difficult problems, how to utilize his resources and ask questions, and how to never stop learning.
"Any student who tries hard enough can really put the pieces together to get their dream job. It's going to take a lot of effort, it's going to take a lot of falling down and getting back up, but you can have your dream job if you really want it."