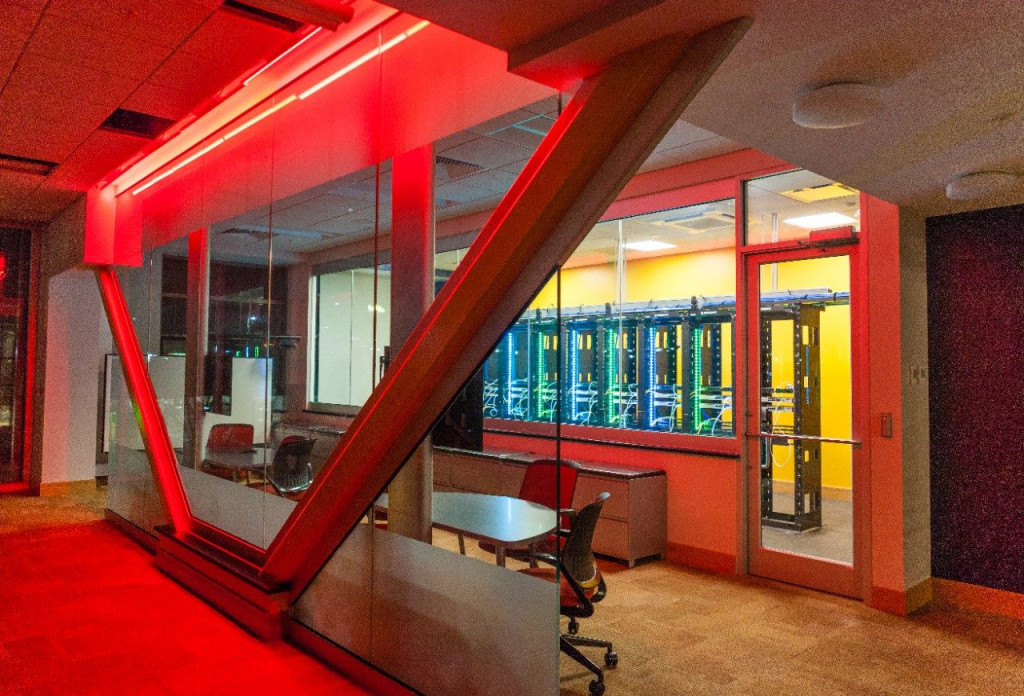 HIGHLAND HEIGHTS, Ky. (March 8, 2018) – Northern Kentucky University's College of Informatics unveils the new JRG Cyber Threat Intelligence Lab. The dedication of the region's premier cybersecurity learning space will be held on March 15.
The JRG Cyber Threat Intelligence Lab is a combination threat intelligence center and network cybersecurity laboratory. NKU worked with top corporate security professionals to create a real-world environment for students to get hands-on learning.
"Computer Information Technology is the highest-enrolled major at NKU, and cybersecurity and networking are at its core. Our students will now have a beautiful state-of-the art space to practice in," said Dean Kevin Kirby, College of Informatics. "What is especially compelling is that this was a purely donor-funded lab. Not a dime of student tuition or Kentucky taxpayer money was spent on it. We are grateful for the generosity of our individual and corporate donors. They are supporting students who will grow into skilled, ethical professionals that we can rely on in this dangerous digital world."
The National Security Agency and the Department of Homeland Security has designated NKU as a National Center of Academic Excellence in Cyber Defense Education. To obtain this top level designation, NKU had to meet stringent criteria to produce professionals with cyber defense expertise for the nation. Collaboration on events like the annual Northern Kentucky Cybersecurity Symposium help achieve that goal.
What: JRG Cyber Threat Intelligence Laboratory Grand Opening
When: March 15 from 4- 6 p.m.
Where: NKU's Griffin Hall
The new JRG Cyber Threat Intelligence Lab is the most significant addition to Griffin Hall since its opening in 2011. Guests can meet members of NKU's nationally recognized Cyber Defense Team and get a tour of the lab.
In addition to JRG, the College of Informatics also acknowledges other major donors to the cybersecurity program, including Western & Southern Financial Group, U.S. Bank, Steven and Nancy Frank and Great American Insurance Group.