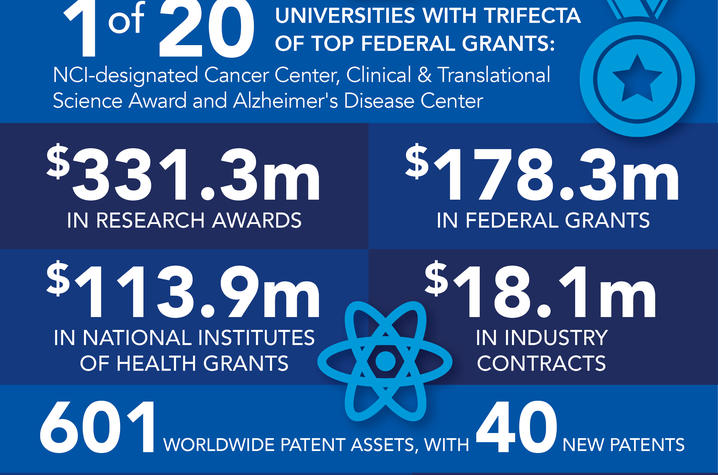 LEXINGTON, Ky. (April 9, 2018) —  How is research at the University of Kentucky transforming tomorrow? The UK Research 2017 Annual Report shares the economic impact of UK research, strategic plan progress, national rankings and innovative federally funded research projects in substance abuse, cancer, diabetes and obesity, cardiovascular diseases, neuroscience and aging, and energy.
In 2017, UK investigators brought in $331.3 million in research awards. Of that total, $178.3 million were federal grants, including $113.9 million from the National Institutes of Health. Industry contracts to UK totaled $18.1 million.
"We believe in the powerful idea that brainpower, harnessed in common cause against insidious problems, can find answers," UK President Eli Capilouto said. "From basic science to working directly in and with communities, UK's research enterprise is engaged in the critical questions of our day. It's why I proudly say that we are the University for Kentucky."
Vice President for Research Lisa Cassis said, "UK's research enterprise has unique breadth and depth. UK is one of only eight institutions in the country with the full one-campus complement of liberal arts, professional, agricultural and health care colleges. This environment promotes collaborative research across disciplines that offers innovative research opportunities to both undergraduate and graduate students. Working together, we are harnessing multidisciplinary research to create solutions for the Commonwealth's most intractable problems. Rankings and numbers are important, but it is the impact of our research mission that makes a difference in the lives of Kentuckians."
The cover of the report features the $265 million multidisciplinary research building that will open in 2018. This new building will house researchers focused on cancer, obesity, diabetes, cardiovascular diseases including stroke, and substance abuse. The approach is to bring together teams of researchers — health care researchers (both basic and clinical), public health, behavioral sciences, agricultural outreach and extension, economics and engineering — to develop solutions to these complex problems.
The economic impact of research at UK reaches across the state, according to "Investing in Innovation: The Impact of Research Funding at the University of Kentucky," a report by the UK Center for Business and Economic Research in the Gatton College of Business and Economics. External research funding to UK, which totaled $274 million in 2016, resulted in $241 million in state taxes; 3,429 jobs across Kentucky; and $511.3 million in statewide production.
For more research data, visit: www.research2.uky.edu/research-data.
For the full report, visit ISSUU: https://issuu.com/researchky/docs/uk-research-annual-report-2017-comp.