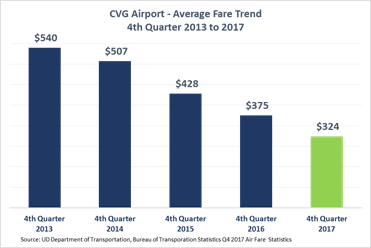 COVINGTON, Ky. (April 17, 2018) — The Cincinnati/Northern Kentucky International Airport (CVG) is once again the lowest fare airport in the region, according to the U.S. Department of Transportation's average airfare ranking report for fourth quarter 2017.
Below is a summary of the results related to CVG:
• CVG average fare ranked #76 compared to #42 in 4Q 2016, an improvement of 34 positions
• CVG average fare of $324 decreased 13% compared to $375 in 4Q 2016. National average fares decreased only 2%. CVG's percentage decrease was seven times better than national average.
• CVG passengers are paying on average $215 less per ticket than four years ago.
Regional comparisons:
CVG ranked #76 – average fare $324
Indianapolis (IND) ranked #55 – average fare $349
Columbus (CMH) ranked #49 – average fare $358
Louisville (SDF) ranked #26 – average fare $391
Dayton (DAY) ranked #25 – average fare $396
Lexington (LEX) ranked #8 – average fare $433
So far in 2018, CVG has launched seven new routes (San Jose, San Antonio, Charleston, Sarasota, Austin, Jacksonville and Raleigh/Durham), and will launch six new routes this spring/fall (Cozumel, Mexico; Grand Bahama Island; Denver via Southwest; Austin via Delta and Phoenix via Delta) including international service with WOW air beginning May 10.