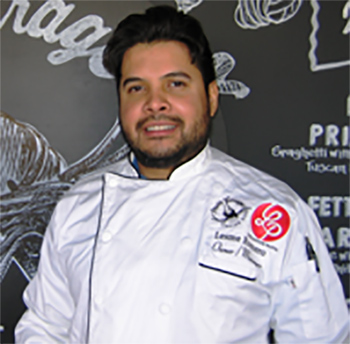 LEXINGTON, Ky. (May 2, 2018) — Lesme Romero, owner and manager of Lexington Pasta and Pasta Garage, was named the 2018 Kentucky Small Business Person of the Year.
Romero came to the U.S. from Venezuela to continue his education. He met Reinaldo Gonzalez in college and with similar backgrounds they became friends and roommates. They cooked together, often making pasta. After college they went their separate ways but stayed in touch.
While visiting each other, Romero and Gonzalez, who had become a chef, decided to launch a pasta business in Lexington, Ky.
Their first order was for 20 pounds of pasta and it took 20 hours to make. The countertop pasta machine they purchased was insufficient for the orders.
In 2013, they asked the Lexington SBDC for assistance. The SBDC helped them in obtaining a small loan for working capital.
The SBDC discussed how to streamline production and develop a business plan. They now produce 1,000 pounds of pasta weekly. Accounts include restaurants, farmer's markets, Kroger's, Whole Foods and Sysco.
In 2014, they contacted the SBDC about refinancing $300,000 in debt, resulting in a leaner, more profitable company and a $200,000 SBA loan.
They again met with the SBDC in 2017 to determine long-term goals. Romero, who then bought out Gonzalez, has recently opened a bodega, a restaurant and a special events venue.
Romero teaches cooking classes and has developed a commercial kitchen and food incubator.
Revenue has grown almost 400 percent in the last four years. The company has 15 employees and will add more as business grows.
Living the American dream, Lesme Romero is now a U.S. citizen. Romero supports the community, serving on many boards in Lexington, including the Lexington Public Library and Downtown Lexington Corp. He also supports numerous nonprofits and social service agencies.