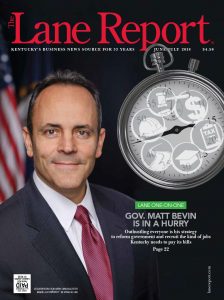 You might or might not notice small tweaks occasionally in The Lane Report, the lanereport.com website and our FasterLane email with news about and advertising from Kentucky's business world. The Lane Report and its growing family of media operations is always looking to better serve our readers – the leaders in Kentucky's business and professional communities – and those who use our special platforms to reach this audience with marketing messages.
For instance, the issue you are reading has arrived at a different part of the month – and it is a combined June-July issue. Readers who take the time to well explore the 72-page issue should easily find it the newsiest we've ever produced.
There are articles on Kentucky's nation-leading aluminum sector, solar power's emerging role in the energy landscape, the first in a three-part look at how important behavioral health is turning out to be now that the fog of stigma attached to mental illness is lifting, a report on the state's new highway plan, a piece on the Kentucky Wired project to put gigabit-speed broadband into all 120 counties, details about the fresh new Kentucky Culinary Trail state tourism leaders have cooked up and much more.
The unquestioned centerpiece of it all, though, is our popular Lane One-on-One feature – a "double issue" itself this time around – an interview with Kentucky Gov. Matt Bevin that runs twice the length of the typical question-and-answer conversations with commonwealth business and public policy leaders.
Bevin gives few interviews, so we wanted to use the opportunity well. Our late founder Ed Lane's original vision for One-on-One was having key leaders address important public policy matters on our collective agenda, and Bevin steps right up to the plate beginning on page 22. Bevin, sent to the governor's office by voters from the business sector, is nothing if not a change agent and in this interview he shares his methods and motivation.
The number of visitors to our lanereport.com website keeps climbing, as does the number of recipients of our FasterLane email blast, for which you continue to give us positive and much-appreciated feedback. The Lane Report, lanereport.com and FasterLane are all important tools for Kentucky's business leaders and decision makers as they monitor the competition, stay informed on innovation and strategize for their operations.
To help connect with our important, decision-maker audience in ways that are appropriate and effective for a wider array of marketers, we now present digital video, have added sponsorship opportunities for certain portions of our news reports and are launching native advertising products. These channels help Kentucky's business-to-business solution providers not only brand themselves but present their vision and role as thought leaders in today's market.
You, the state's influencers and decision makers, have shown interest in more ways to communicate with your peers via our effective print and digital platforms.
The Lane Report is increasing its participation in the events sector also, because we understand that you trust us to provide and curate information that keeps you up to date with what is happening across the commonwealth and pass along best practices and success stories among your peers. Events help us market to you.
Lastly, though, while our print products may change with the times, their core elements endure. That's because the most sophisticated research in the world shows the magazine experience remains one of the most effective means of communication bar none. Its rich and active tactile and visual experience creates a heightened engagement, comprehension and recall level that is valuable for offering and gathering information. That will never change. ■
---
Mark Green is executive editor of The Lane Report. He can be reached at [email protected]