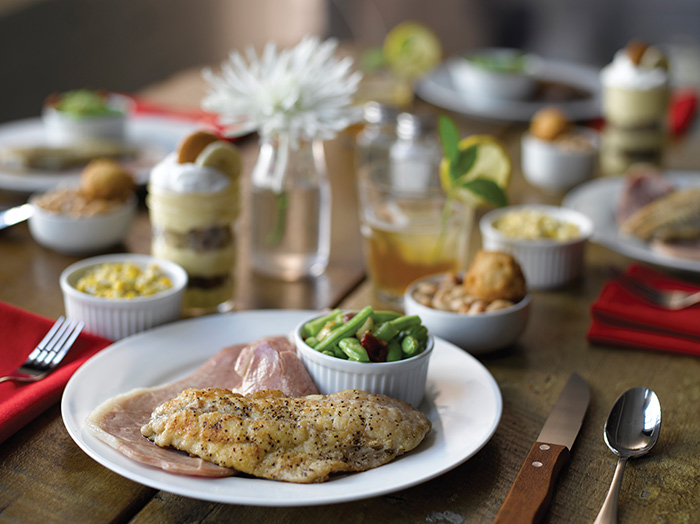 In case you haven't yet heard the fabulous news, our state has designated 2018 as "The Year of Kentucky Food." Oh, boy!
Research shows that 77 percent of travelers count food as one of their top three reasons to choose a travel destination, and the variety of tasty victuals within our borders – from upscale white tablecloth and crystal establishments, to marvelous mom and pop drop-ins, to country barbecue joints with paper napkins on a roll – keeps them coming back. Visitors want to scoot their chairs up to a table where locals eat and "taste" their stories.
Kentucky's reputation as a foodie destination has grown to the extent that "Top Chef" will film its next season here. If you're a native, or even if you've moved here, you're likely aware of the importance of food in our culture.
"Food is our way to welcome people in and to show our hospitality," says Kentucky Department of Tourism Commissioner Kristen Branscum. "We love to sit around the table and get to know others, as well as serve them food that we love and have taken great care in preparing."
---
IT'S FREE | Sign up for The Lane Report business newsletter. Receive breaking Kentucky business news and updates daily. Click here to sign up
---
Now tuck in your napkins, for all nine tourism regions have a signature meal that best represents its tastes, chosen by a diverse group of farmers, chefs, food producers and historians from across the commonwealth. In addition, the Kentucky Department of Tourism has launched the Kentucky State Parks Culinary Trail, which features nine parks offering the meals symbolic of their region. All have ample-sized restaurants and most, private dining. Park overnights can be lodge rooms, condos, cottages, cabins and campgrounds, some horse-friendly.
Following is a sampling of local foods and the Culinary Trail Park, where you can dine on that area's choice. Each regional meal features an appetizer, entrée, sides, dessert and beverage.
Western Waterlands: In the Purchase District, laced with lakes and rivers, start with a bourbon cocktail. Move on to white beans with ham hock, Kentucky "surf and turf," (i.e. salt-cured country ham and a filet of fresh fried fish – probably catfish), just-picked Silver Queen corn and Kentucky Wonder pole beans cooked with bacon. Save room for homemade banana puddin' with whipped cream or lightly-browned meringue.
On the shores of Kentucky Lake, the longest in the state, Kentucky Dam Village State Resort Park boasts the system's largest marina, 18 championship holes of golf, and a 200-seat restaurant with views of the last dam on the Tennessee River.
Bluegrass, Blues and Barbecue: Home to Owensboro, the state's Barbecue Capital, this region's favorite begins with a cup of thick burgoo. Move on to a West Kentucky specialty, barbecued mutton. Add baked beans, potato salad, cole slaw and warm peach cobbler, served with an icy glass of local-berry-made strawberry lemonade.
At the 863-acre Pennyrile Forest State Resort Park in Dawson Springs, you can indulge in land and water sports, swim in an outdoor pool, and hike 40-plus miles of trails.
Bourbon, Horses and History: In Derby City, the men-only Pendennis Club created the region's signature drink, the old-fashioned (bourbon muddled with sugar, bitters and an orange slice). A Bibb salad with Benedictine dressing precedes a Kentucky hot brown, a decadent open-faced sandwich of turkey, bacon and Mornay sauce created in 1926 at the Brown Hotel, accompanied by succotash. Dessert of bourbon biscuit pudding adds an "angel's share."
Not only does Rough River Dam State Resort Park snuggle up to a 5,000-acre lake, but has its own airstrip and meeting facilities that include a 300-guest convention center. Visitors can boat, fish, play disc or miniature golf, and swim.
Northern Kentucky River: The tip-top of the commonwealth toasts with a Kentucky Rain, made of Blue Curacao, Sierra Mist and George Clooney-endorsed Casamigos Blanco Tequila. An entrée of goetta, a scrapple cousin, reflects the region's German heritage. Crusty tomato pie and potato cakes share the plate with heavenly-sweet transparent pie.
Thought to be the site of Kentucky's last Revolutionary War battle, Blue Licks Battlefield State Resort Park offers land and water sports, an outdoor pool, and three meeting rooms. The patio at its 172-seat restaurant overlooks the Licking River.
Bluegrass, Horses, Bourbon and Boone: A Winchester original since 1926, Ale-8-One over ice or mixed with bourbon starts the show. Beer cheese whets the appetite for Kentucky beef and warm spoonbread with grits, limestone Bibb salad with sorghum vinaigrette and finally, bourbon chocolate cake.
Known for its natural sandstone arches and rugged cliff lines, Natural Bridge State Resort Park features a stream-shaped pool and Hoedown Island, nirvana for cloggers and square dancers. Its 175-seat restaurant is a short walk-off-your-meal from 65-foot-high Natural Bridge.
Kentucky Appalachians: Begin your mountain meal with cooked-all-day soup beans and warm cornbread. Follow with salmon patties, fried potatoes and a combo of cucumber, tomatoes and onions with Italian dressing. Wash down a slice of ultra-moist blackberry jam cake with a cup of steaming coffee.
In the mountains near Prestonsburg, Jenny Wiley State Resort Park presents Broadway shows in its amphitheater in addition to offering miles of hiking trails and boating. Its Music Highway Grill seats 224.
Daniel Boone Country: Now finally legal, flavor-infused "white lightning" – or moonshine – will start your meal with a buzz. Still mountain country, this region embraces pickles and chow-chow relish, soup beans with country ham, fried potatoes and fresh green onions. And for dessert, a big ol' glass of milk and apple stack cake.
Named Kentucky's first state park in 1924, the 1,700-acre Pine Mountain State Resort Park offers plenty of sports, including golf on the acclaimed Wasioto Winds 18-hole course, and a state nature preserve. A convention center hosts 300.
Southern Shorelines: Folks in this region sit down to pinto beans and spider cornbread, fried local catfish, mashed potatoes and collard greens with ham hock. They might be sipping on a Ski, a citrus soda made with real oranges and lemon juice that's been popular here since 1956. And for the perfect ending, a homemade fried pie a la mode.
Set on the 63,000-plus-acre lake considered the country's No. 1 houseboating destination, Lake Cumberland State Resort Park rocks with nearly every watersport imaginable, a year-round indoor pool and superb fishing, including 40-to-50-pound stripers.
Caves, Lakes and Corvettes: Tasty, farm-made cheeses offer a perfect start to a meal in Cave Country. Follow those appetite-whetters with pork shoulder or pork chops, sliced fresh tomatoes, sweet corn (creamed or fried), green beans with ham hock followed by a just-out-of-the-oven bubbly fruit cobbler with local ice cream. In the summertime, sip a chilled glass of apple cider. In the winter months, hot cinnamony cider will warm you up.
Barren River Lake State Resort Park can host groups in five meeting rooms and even lead team building. A 10-acre, dam-controlled lake assures bigtime fishing and water sports. Its 146-seat eatery overlooks the water.
The components of the above-mentioned meals, says Branscum, "will hopefully be looked at as a jumping off point for our creative chefs, cooks, pitmasters and mixologists…to create their own take on our iconic foods."
Find out more about the Year of Kentucky Food, and download recipes to wow your guests at kentuckytourism.com/food/2018-year-of-Kentucky-food.
You can hop on the State Parks Culinary Trail through October 3. Pick up a Trail Passport at any state park, revel in a scrumptious feast and get your Passport stamped. One you have stamps from all nine parks, mail it to the Kentucky State Department of Tourism, and you'll receive a free gift. Plot your travel at http://ky.parks.gov/.
---
Katherine Tandy Brown is a correspondent for The Lane Report. She can be reached at [email protected]