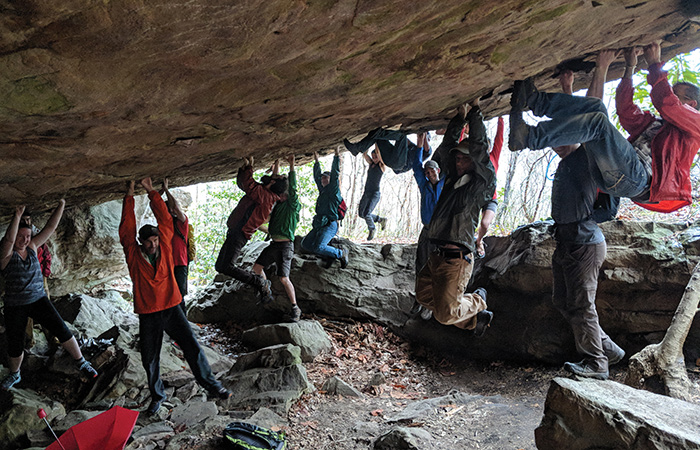 How much time do you spend outside? An hour a day? That's 4 percent of 24 hours. Many Americans are spending upwards of 96 percent of their time indoors.
Awareness is the first step to getting unplugged and back to nature. Fortunately, Kentucky has a plethora of organized and spontaneous outdoor activities for everyone.
Mimi Hahn and three employees operate Endless Summer Paddle Co.  in Louisville, which sells and rents stand-up paddleboards at Taylorsville Lake and other area waterways. Endless Summer also teaches skills clinics, SUP yoga and SUP fitness classes, and sponsors specialty events like full-moon paddles.
Hahn has been a fan of outdoor activities since childhood. She led canoeing expeditions for Outward Bound's at-risk programming in Florida and Alabama for two years before forming a company of her own in 2016.
---
IT'S FREE | Sign up for The Lane Report business newsletter. Receive breaking Kentucky business news and updates daily. Click here to sign up
---
Endless Summer is a partner of the Kentucky Waterman Series, an annual statewide event for paddle sports races – canoes, kayaks and paddleboards – set up in 2017 through the Explore Kentucky Initiative. Gerry James founded the Explore Kentucky Initiative five years ago as a college student at Campbellsville University. Today his organization promotes an active lifestyle in Kentucky's outdoors by way of guided trips, special events and environmental education. The 10 events of the Kentucky Waterman Series in 2018 take place June through October across some of Kentucky's 50,000 miles of waterways, including Cave Run Lake, Laurel River Lake and Cumberland River.
"Now, more than ever, it is so important that we prioritize time spent out of doors and away from the high-paced demands of modern life," Hahn said. "Getting outside gives us the space for quiet, the space for listening, the space to be just as we are. Of course, I want people to patronize my business but more importantly I want to see my community gathering together with friends and with family to enjoy, cherish, celebrate and ultimately protect and preserve our outside spaces."
Carolyn Sexton contracts with the Explore Kentucky Initiative to lead hikes. She also recently started her own program, Backcountry Belles, to introduce women to the outdoors as a source of self-care and healing.
"It's something we're going to be able to be offering through various nonprofits, churches and even through projects with veterans," she said, "and as a health-care initiative as well."
Kylie Schmidt is the reforestation coordinator for Green Forests Work, a nonprofit organization that has been operating through UK's Department of Forestry and Natural Resources since 2013. She also volunteers for another nonprofit, the Central Appalachia Climbers Coalition.
"Our mission is to sustainably develop and maintain rock-climbing areas in central Appalachia with the hope of boosting tourism and providing new economic opportunities," said Schmidt. "We think our outdoor recreation is one of the greatest assets in the region."
Schmidt has been a fan of outdoor activities since she was a little girl in Pikeville, hiking at Breaks Interstate Park. The bi-state park is located at the end of Pine Mountain in Pike County and in southwest Virginia. Thanks to CACC, ecotourism in the form of rock climbing took hold at the Breaks in 2016.
"Local people tend to think of fun in terms of Dollywood or other amusement parks and not thinking of using the land around us," said Shay Wilson, interpretive programs coordinator at the Breaks. "That can be fun."
Where there's fun there are business opportunities. Hikers, rock climbers, whitewater rafters and other outdoor recreation enthusiasts need guides, gear shops and restaurants.
"That's part of our mission," Schmidt said of the Central Appalachia Climbers Coalition. "We think rock climbing is a good way for developing economic opportunities."