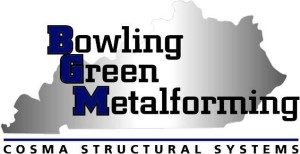 FRANKFORT, Ky. (July 2, 2018) – Gov. Matt Bevin today announced Bowling Green Metalforming LLC, a Canadian-owned automotive parts manufacturer, plans its sixth expansion since 2004, a $14.2 million investment set to create 27 new jobs in Warren County.
"Congratulations to Bowling Green Metalforming, which is launching yet another exciting expansion project," said Gov. Matt Bevin. "BGM is a key contributor to Kentucky's booming automotive industry, and the company has been integral in establishing south central Kentucky as a vibrant manufacturing hub. BGM's drive to succeed is impressive and we look forward to seeing what the future holds as they further expand their operations. We are grateful for their continued confidence and investment in our state."
The project includes extensive modifications to BGM's more than 1 million-square-foot building in the Kentucky Transpark in Bowling Green to install a new 3,000-ton press. The company was the industrial park's first tenant and now ranks among south-central Kentucky's largest corporate employers, with more than 1,600 employees.
"Bowling Green Metalforming is pleased to have worked closely with Gov. Bevin, the Kentucky Cabinet for Economic Development and the Bowling Green Chamber of Commerce on its planned investment project," said Keith Gameson, BGM general manager. "This project will benefit BGM's manufacturing process by expanding its capabilities at its existing facility."
BGM is a wholly-owned subsidiary of Magna International, a premier automotive parts manufacturer with more than 350 facilities in 28 countries. Magna International employs more than 172,000 people globally. In Bowling Green, BGM specializes in manufacturing truck frame assemblies, engine cradles and suspension links.
Sen. Mike Wilson, of Bowling Green, said the company had alternatives for this project, but showed its commitment to the Kentucky workforce.
"BGM's expansion in Bowling Green is a testament to the fact that Kentucky is setting the tone for growth and job creation," Sen. Wilson said. "Magna is a company that could have expanded any of their existing facilities, but they chose Kentucky, and I thank them for their commitment to the commonwealth."
Rep. Michael Meredith, of Oakland, noted the company's strong presence within the community.
"Bowling Green Metalforming is a staple of the Warren County community," Rep. Meredith said. "It has provided numerous jobs for the area and has helped establish the Bowling Green region as one of the state's biggest manufacturing hubs. The company is a success and I look forward to the business' expansion and continued accomplishments."
Bowling Green Mayor Bruce Wilkerson said BGM's commitment has been a driving force behind the success of the Kentucky Transpark.
"We are happy Bowling Green Manufacturing calls Bowling Green home and pleased to celebrate another of their expansions today," Mayor Wilkerson said. "Their decision to be the first company to locate in the Transpark has helped to ignite one of the most successful industrial parks in Kentucky. We look forward to their tradition of success for many years to come."
Warren County Judge-Executive Mike Buchanon expressed gratitude for the company's decision to expand.
"This is one expansion project in a long string of expansions for Bowling Green Metalforming in the Kentucky Transpark," Judge-Executive Buchanon said. "The growth they have experienced here is tremendous and has afforded great opportunities to both BGM and the community because their success has been for our community's record books. We thank them for their continued support and extend our congratulations to what is sure to be one of many more projects in the future."
Bowling Green Area Chamber of Commerce President and CEO Ron Bunch said the company and community share a unique bond.
"Bowling Green Metalforming has been the epitome of a community partner and corporate citizen in our region since day one. They have taken an active role in helping to identify workforce needs and shaping the future workforce in south central Kentucky through their involvement with the Chamber," Bunch said. "They have been named the John B. Holland Business of the Year not once, but twice, in the last three years, and were instrumental in Kentucky receiving its sixth Area Development Silver Shovel award in 2015. Bowling Green Metalforming is truly an outstanding business for our community. We are ecstatic to celebrate this expansion and look forward to working with and continuing their success in our community."
To encourage the investment and job growth in the community, the Kentucky Economic Development Finance Authority (KEDFA) in June preliminarily approved the company for tax incentives up to $600,000 through the Kentucky Business Investment program. The performance-based incentive allows a company to keep a portion of its investment over the agreement term through corporate income tax credits and wage assessments by meeting job and investment targets.
In addition, BGM can receive resources from the Kentucky Skills Network. Through the Kentucky Skills Network, companies can receive no-cost recruitment and job placement services, reduced-cost customized training and job training incentives. In fiscal 2017, the Kentucky Skills Network provided training for more than 120,000 Kentuckians and 5,700 companies from a variety of industry sectors.
For more information on Bowling Green Metalforming and Magna International, visit www.magna.com.
A detailed community profile for Warren County can be viewed here.