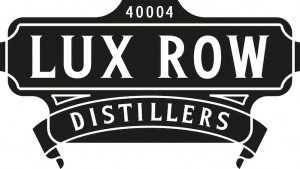 BARDSTOWN, Ky. (July 2, 2018) – Lux Row Distillers, one of Bardstown's newest distilleries, is the latest Kentucky Distillers' Association member to join the Kentucky Bourbon Trail experience, becoming the 13th stop on the world-famous journey that showcases the state's signature spirit.
The announcement comes as the popular tourist attraction, created in 1999 by the Kentucky Distillers' Association, continues to expand across the Commonwealth with distillery destinations hosting more than one million visits for the second year in a row in 2017.
"The Kentucky Bourbon Trail tour offers a variety unique and authentic experiences to visitors," KDA President Eric Gregory said. "Lux Row has made a tremendous investment in an exceptional facility that beautifully showcases the timeless values and rich tradition of Kentucky Bourbon."
Lux Row opened its doors to the public with a lively ribbon-cutting ceremony in April which featured Kentucky United Pipes and Drums marching band and hosted over 450 employees and invited guests from around the world.
Located at 1 Lux Row, the company is one of six KDA member distilleries in Nelson County, including Heaven Hill, Willett, Bardstown Bourbon Company, Preservation Distillery and Jim Beam's Booker Noe Distillery. The county seat is Bardstown – the "Bourbon Capital of the World."
"We are thrilled, and extremely proud, to be a part of the iconic Kentucky Bourbon Trail and to welcome visitors from all over the world to tour our distillery and experience our award-winning Bourbon brands," said Donn Lux, chairman and CEO of Luxco.
"The bourbon community has been incredibly welcoming of our family into theirs and we feel right at home here in Bardstown."
Kentucky bourbon is one of the Commonwealth's most historic and treasured industries, a booming $8.5 billion economic engine that generates as many as 17,500 jobs with an annual payroll topping $800 million, pouring $825 million into tax coffers each year.
With 6.7 million barrels of Bourbon currently aging across the state, the Kentucky Bourbon industry is in the middle of a $1.2 billion building boom with companies investing in production and facility expansions as well as state-of-the-art visitor experiences.
The KDA created the trademark tour to give visitors an intimate, educational look behind America's only native spirit at Kentucky's finest distilleries. The KBT Craft Tour, featuring the state's micro-distilleries, launched in 2012 as the first of its kind in the country.
Now with an all-time high of 13 participating distilleries, other KBT members are: Angel's Envy, Louisville; Bulleit's Stitzel-Weller Distillery, Louisville; Four Roses, Lawrenceburg and Cox's Creek; Heaven Hill in Bardstown and its Evan Williams Bourbon Experience, Louisville; Jim Beam in Clermont and Louisville; Maker's Mark, Loretto; Old Forester Distillery, Louisville; O.Z. Tyler, Owensboro; Town Branch, Lexington; Wild Turkey, Lawrenceburg; and Woodford Reserve, Versailles.
Visit www.kybourbontrail.com to learn more.
Adam Johnson, senior director of the KDA's Kentucky Bourbon Trail program, said Bardstown's authentic, small-town charm, growing culinary scene and significant investment in Bourbon tourism have greatly enhanced the distillery visitor experience in the area.
"Lux Row is another world-class attraction that adds to Bardstown's Bourbon legacy and must-stop status for the Bourbon lover," Johnson said. "We're proud and honored to welcome them to our iconic amber adventure."
Lux Row Distillers will be the home of Luxco's Bourbon brands, including Rebel Yell, Blood Oath, David Nicholson and Ezra Brooks Kentucky Straight Bourbons. Open for tours Wednesday through Sunday, the experience will include a 45-minute walking tour and an educational tasting seminar in the Tasting Room.
For more information, visit luxrowdistillers.com.
"Donn and Michele Lux have poured their hearts and souls into this experience and it shows in every last detail," Gregory said. "We applaud their commitment to our legendary craft, and we thank them for all their efforts in securing Kentucky as the one true, authentic home of Bourbon."