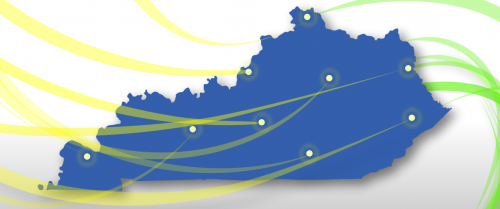 The Kentucky Wired plan has been delayed and survived a near-death experience during the 2018 legislative session, but the "middle mile" broadband network plan now intends to roll out within 18 to 24 months with its original intent and focus – putting gigabit-speed internet service nodes into every commonwealth county.
In February, President Donald Trump offered an infrastructure plan that includes funding for states of potentially up to $40 billion for rural "last mile" broadband, which might present a means to get the Kentucky Wired network from its service nodes to businesses and homes.
Construction Status by Segment (PDF)
Originally, the 120-county Kentucky Wired program was to be complete by September 2018 at a cost of around $324 million, most of that coming from Australia's Macquarie Capital in a public-private partnership deal. It was and still is envisioned as a crucial economic development stepping stone for Eastern Kentucky.
The 3,200-mile construction project fell behind initially due to delays in getting pole-attachment agreements from both AT&T and Windstream, said Phillip Brown, executive director of the Kentucky Communications Network Authority (KCNA).
With cost overruns climbing to more than $180 million, and KCNA needing to pay out nearly $70 million it did not have in the coming two years, there was sentiment among legislators and some public policy groups to kill the project. It got no funding in the budget bill sent to Gov. Matt Bevin, who vetoed it due to concerns that it spent too much and lacked enough emergency funding.
When legislators overrode the governor, they tweaked the budget to provide Kentucky Wired a nearly $70 million appropriation and permission to bond $120 million more to cover its overruns. National bond rating agencies had declared defaulting on the project would permanently damage Kentucky's debt rating and cost the state far more money than the overrun payments in its future borrowings.
That puts the project back on track, albeit not for fall of this year.
The wheels of ultra-high speed broadband move slowly and actually started in the previous governor's administration. In the beginning, the contract negotiations from 2014 through 2015 included more than 70 required pole-attachment agreements. AT&T and Windstream accounted for about a seven-month delay in moving forward. 
"These pole attachments are a big piece of the puzzle and are our greatest challenge," said Brown. "I am reluctant to toss out new dates for completion, when I really don't control anything."
Recent announcements of partnerships continue to underscore the interconnectivity of broadband throughout the state. MuniNet Fiber Agency in February entered into an agreement with the Commonwealth of Kentucky to build part of its KentuckyWired fiber-optic cable project in Caldwell, Muhlenberg and Hopkins counties. MuniNet will construct approximately 66 miles of the 3,200-mile ultra-high-speed cable.
In April, Owensboro Municipal Utilities said it had struck a deal to lease some of its broadband network to Kentucky Wired.
Brown said in April that from where he stands it looks like the project is at least 18 months delayed. However, supervening events, as they are called, can create more costs as direct loss claims from the contractors are part of the contractual situation.
"Let me point out that these are not penalties, but they do require that extra monies had to be spent," he said.
Direct loss might be, for example, having to store the fiber longer than anticipated in a warehouse while the pole attachments were worked out. While as of mid-spring there had been 208 supervening events, many are not direct-loss claims. For example, a road encroachment for a permit does not result in an extra dollar spent.
The entire cost of the project totals $325 million, with $274 million directly related to construction, and the rest other expenditures that include third-party oversight, closing costs and site preparation. In March, Brown said, there would be no spend greater than anticipated. He was back in front of the state legislature discussing how to cover costs, provide for supervening events, and prepare for the future, including events like weather delays. Some assigned telecom crews on Kentucky Wired went out of state to hurricane areas, for example, delaying progress.
By the end of the 2018 legislative session, a new schedule and funding to continue were approved.
"While there have been op-eds and other letters written to media about project termination," Brown told legislators during the 2018 session, "the reality is that it will be much cheaper to complete the Kentucky Wired plan than to terminate it. The Bevin administration is committed to finishing Kentucky Wired."
Bevin himself reiterated this during an interview in late May with The Lane Report.
The Kentucky Wired model eventually makes money for the state, in addition to allowing economic development from broadband access, according to Brown. There is a wholesaler provision allowing for open access and wholesale leasing over the next 30 years as a source of revenue, he said. The companies that are most interested in this wholesale connection opportunity will be satellite companies, large companies and smaller broadband providers. This will assist in recouping the state's expenses over the next quarter of a century, he pointed out.
"We need more connection points to Lexington and Louisville," he said. Google Fiber, for example, is a last-mile project to connect business and home consumers, as is MetroNet for Lexington. MetroNet has promised to spend at least $70 million to provide fiber-optic wiring at 1,000 megabits per second. Lexington's average internet speed now is approximately 16.2 megabits per second.
"Construction on the Lexington MetroNet network began in early January and to build out all four quadrants will be in excess of two years. First installations for residential and business customers are anticipated in late summer and early fall, dependent on weather for efficient construction. This is a great partnership with the city, and it should assist businesses in staying in the market and growing as well," said Keith Leonhardt, MetroNet's vice president of marketing.
Lexington was selected to make a deal because it was a college-town and forward thinking, Leonhardt said. Talks began more than two years ago for this project.
In Louisville, Kentucky Wired intends to assist and further efforts for its "possibility city" goal. "Essentially, the city of Louisville asked for 432-count fiber with 144 fiber strands being owned by the city. They are partnered with Kentucky Wired," Brown said.
Other cities are expected to take similar steps.
Several states are watching Kentucky as a model, and still others such as Iowa have implemented similar plans, but do not have the wholesale component. Virginia implemented a similar plan to Kentucky via Mid-Atlantic broadband under a nonprofit.
The last mile, like neighborhood roads, may benefit from the federal government's push for infrastructure.
"Eighty percent of businesses use broadband every day with 38 percent (of consumers) wanting higher speeds for everything from homework to health care. This need is more than for Netflix and binge watching," Brown said.
---
Dawn Marie Yankeelov is a correspondent for The Lane Report. She can be reached at [email protected].