By Susan Gosselin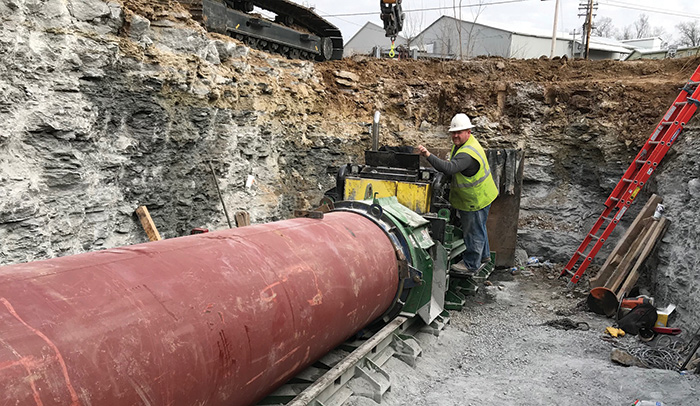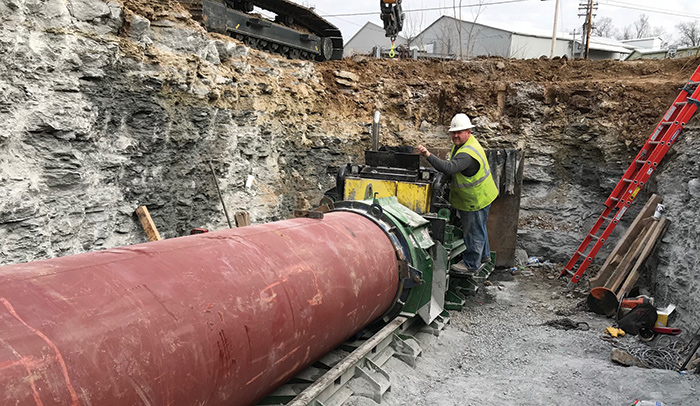 Louisville is known for its resources in healthcare, logistics and bourbon distilling. But one of the most important reasons businesses locate to Louisville is its low cost of doing business, and local utilities companies are one of the biggest reasons why.

Much of Kentucky's electricity comes from its indigenous coalfields – 86 percent, in fact – while the remainder is generated through hydroelectric, natural gas turbines and solar. A big chunk of Louisville's natural gas for home and industry comes from easily accessible transcontinental pipelines and Kentucky coalfields. And its water, award winning for its taste and quality, is pumped and treated from the Ohio River aquifer.
All this combines to help Kentucky have some of the lowest overall utility rates in the country.
According to the latest charts from Greater Louisville Inc., the commercial rate for Louisville's electricity is 9.25 cents a kilowatt hour, natural gas is 8.2 cents per cubic foot, and water is $3.14 per thousand gallons, respectively.
In addition, three major fiber-optic networks span the city, giving businesses a competitive market for their internet service.
And Louisville's utility providers aren't just known for having reasonable rates. They are also known for their ability to work out deals with incoming businesses that really lower the cost of doing business.
Site Selection magazine has named Louisville Gas & Electric one of the country's top 10 utilities for several years running now. Its 2017 listing referred to LG&E's record for the year as "a total of $1.8 billion invested and 12,692 jobs created via 235 projects – which describes this perennial leader's year in a very big nutshell. The utility's economic development rider conferred more than $850,000 in credits in 2016, and the company invested over $500,000 via zero-interest loans to support development of industrial land in two Kentucky communities."
"The competitive cost of utilities in Greater Louisville is an extremely important factor in attracting new businesses to our region," said Deana Epperly Karem, GLI's vice president for regional growth. "Our rates are well below the national average for both businesses and residences. The low cost of entry was key in securing GE, UPS and Ford decades ago, and it continues to be one of our region's biggest selling points."
Both the Louisville Water Co. and LG&E continue to invest in their delivery systems, as well. The Louisville Water Co. is installing a pipeline along Interstate 64 to deliver its drinking water to Shelbyville. And it's on track to finish a multiyear, $23.6 million project in 2020 to eliminate the last of its lead service lines, replacing them with copper. This year, it will also spend $33 million to replace, repair and perform robotic inspections of water mains to reduce the number of breaks and maintain great quality.
"Louisville is unique in that we have an abundant supply of water and some of the lowest rates in the region. That's why we're focused on economic development," said Kelley Dearing Smith, vice president of communications, marketing and economic development for Louisville Water. "We work closely with the state, city and regional economic development industries on attracting new businesses to the region or helping existing ones to expand. The campaign focuses on 'discovering Louisville's liquid assets.'"
That development also crosses over into the bourbon industry.
"There are over a dozen bourbon distilleries in our service area, and each uses Louisville Water as part of their production and visitor experience," Dearing Smith said. Water and bourbon have a unique connection – both with our customer, the production, the enjoyment and the social responsibility."
For its part, LG&E is installing a new 12-mile natural gas pipeline this year in Bullitt County to support economic development in that area. And it has built a research and demonstration site in Harrodsburg at the E.W. Brown Generating Station, in collaboration with the Electric Power Research Institute. The virtual lab it has constructed will test the viability of storing energy in a massive lithium-ion battery system with a one-megawatt smart power inverter and advanced control system at the site.
Louisville's Energy Cost Ratings
Louisville's energy costs are far below its competitor cities.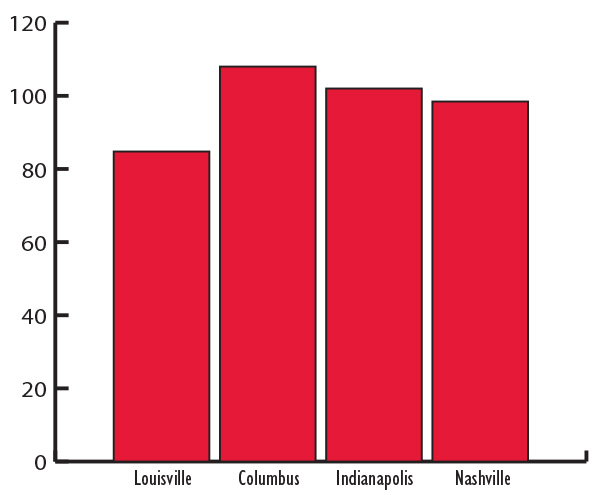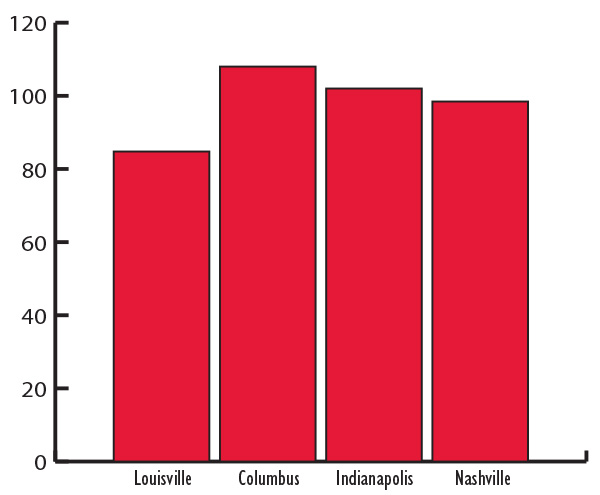 LG&E and KU Energy
220 West Main Street
Louisville, KY 40202
Louisville Gas and Electric Company and Kentucky Utilities Co., part of the PPL Corp., serve nearly 1.3 million customers and have consistently ranked among the best companies for customer service in the United States. LG&E serves 326,000 natural gas and 411,000 electric customers in Louisville and 16 surrounding counties. KU serves 553,000 customers in 77 Kentucky counties and five counties in Virginia.
Louisville Water Co.
550 S. Third St.
Louisville, KY 40202
(888) 535-6262
Louisville Water provides a high-quality, reliable supply of drinking water to Louisville Metro and portions of Bullitt, Hardin, Nelson, Oldham, Shelby and Spencer counties. Louisville Water began as Kentucky's first public water provider in 1860 and today its treatment plants are ranked as two of the top 16 in North America for outstanding water quality.
---
Atmos Energy
atmosenergy.com
Columbia Gas of Kentucky
columbiagasky.com
Delta Natural Gas Co.
deltagas.com
Duke Energy
duke-energy.com
Equitable Gas
peoples-gas.com
Hardin County Water District No. 1
hcwd.com
Hardin County Water District No. 2
hardincountywater2.org
Kentucky American Water
amwater.com/kyaw/
LG&E and KU Energy
lge-ku.com
Louisville/Jefferson County Metropolitan Sewer District
louisvillemsd.org
Louisville Water Co.
louisvillewater.com
Touchstone Energy Cooperatives
touchstoneenergy.com