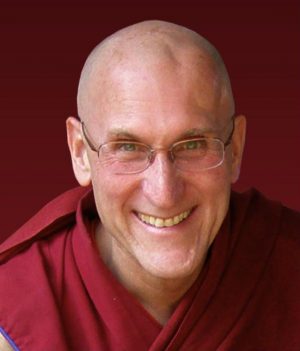 LOUISVILLE, Ky. (July 30, 2018) — Dr. Barry Kerzin, personal doctor to the Dalai Lama and founder of Altruism in Medicine Institute (United States) and Human Values Institute (Japan) will speak on compassion in medicine at the University of Louisville July 31.
The speech is entitled "Focus on Compassion: Using Resilience and Mindfulness to Cultivate Self-Compassion and Extend Compassion to Others."
Kerzin has served for the past 28 years as personal doctor to the 14th Dalai Lama, the spiritual leader of the people of Tibet. Kerzin is an affiliate professor at the University of Washington-Tacoma, a visiting professor at Central University of Tibetan Studies in Varanasi, India, and an honorary professor at the University of Hong Kong. A fellow of the Mind and Life Institute of Charlottesville, Va., Kerzin also consults for the Max Planck Institute in Leipzig, Germany, on compassion training. He is the founder of the Altruism in Medicine Institute of Cortez, Colo., and the Human Values Institute of Tokyo.
WHEN:
8 to 9 a.m., Tuesday, July 31, 2018
WHERE:
Room 302, UofL School of Medicine Instructional Building, 500 South Preston Street.
Parking: Metered street parking is available on South Preston, East Muhammad Ali and East Chestnut Street; garage parking for a fee is available in the Chestnut Street Garage, 414 East Chestnut Street.
WHY:
The address is the inaugural event in the Stambaugh Lecture Series presented by the University of Louisville School of Medicine Advancement, Retention and Training (SMART) program. The SMART program is sponsored by School of Medicine Dean Toni Ganzel, M.D., and engages students, faculty and staff in professional and personal development efforts through a number of initiatives such as mentoring, professional development, community outreach and engagement, recognition and reward and wellness activities.