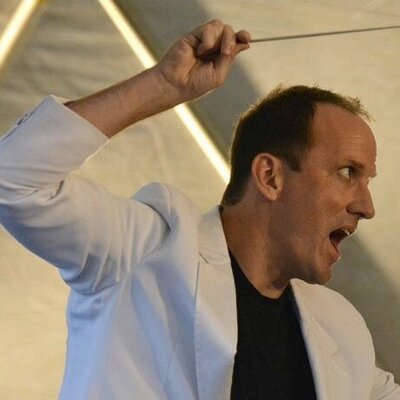 LEXINGTON, Ky. (Aug. 10, 2018) — Lexington Philharmonic, The Lexington Philharmonic Society and Scott Terrell announced Friday that the 2018-19 season, Terrell's 10th, will be his last as music director and conductor for the Lexington Philharmonic Orchestra.
Music director and conductor since 2009, Terrell has overseen an era of unparalleled artistic growth and engagement for the orchestra. During his tenure, he established LexPhil as a valuable destination for living composers, renowned guest artists, and talented musicians who were emerging onto the world stage.
"For almost a decade, we've been delighted to have Scott Terrell on the podium leading our tremendously talented musicians in their performance of some of the best music ever composed", said the Lexington Philharmonic Board President Carol McLeod. "We know that Scott wants to take the exposure he has earned through his work with LexPhil, along with his growing guest conducting work, and build a far-reaching presence. We wish him great success."
"We are grateful for the incredible work Scott has done to develop the orchestra, continuing the positive trajectory established by his predecessors," said Ellen Karpf, Lexington Philharmonic board member and former board president.
Of his time with the Lexington Philharmonic, Terrell said "I am extremely proud of the artistic growth and community viability I have experienced during my time as music director of the Lexington Philharmonic. The orchestra embodies a commitment to excellence and it has been a joy to lead them through so many wonderful projects. Ten years is an incredible accomplishment for the entire organization but now it is time to move on. We have achieved much of what we set out to do and I am very thankful for my time in Lexington."
Terrell accomplished several key milestones that have raised the bar for the orchestra and brought Lexington into the national spotlight for orchestral music. As a champion for new music, Terrell introduced a vibrant tapestry of contemporary symphonic works alongside the classical canon to central Kentuckians.
With the support of the late Dr. Ronald Saykaly, Terrell initiated the biennial Saykaly Garbulinska Composer-in-Residence program. Composers who have worked with LexPhil and for whom LexPhil premiered works include Daniel Kellogg, Adam Schoenberg, Avner Dorman, and Chris Brubeck. The Lexington Philharmonic's April 2014 world premiere of Adam Schoenberg's Canto was selected to be on NPR/APM's nationally broadcast "Performance Today" in November 2016.
"The Lexington Philharmonic has become more artistically diverse under Scott's leadership" stated Allison Kaiser, executive director. "Scott greatly expanded the range of repertoire, often in unexpected program pairings, introducing our audiences to exciting and unfamiliar works and increasing their desire to explore further."
Under Terrell's leadership, large choral works, semi-staged operas and live performance of film scores became regularly scheduled experiences and have attracted a more diverse audience. New relationships were forged with several artistic partners including the Kentucky Opera, Lexington Chamber Chorale, Ecco Chamber Choir, Lexington area high school choruses, and most of the college and university choruses throughout Central Kentucky.
Terrell will be conducting all of the 18-19 Season Series concerts as well as the December 2018 Cathedral Christmas and New Year's Eve concerts.