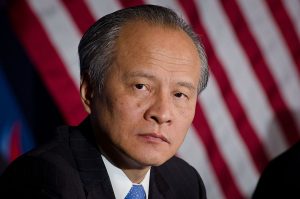 FRANKFORT, Ky. (Aug. 13, 2018) – Gov. Matt Bevin welcomes Chinese Ambassador to the U.S. Cui Tiankai to the commonwealth this week, as the diplomat visits Kentucky for the first time.
Gov. Bevin and leadership from the Cabinet for Economic Development previously met with Ambassador Cui in April during the China-U.S. Business Summit in Chicago.
"Ambassador Cui and I had a productive discussion this past spring, and I look forward to meeting with him once again to further our relationship with China and lay the groundwork for additional foreign investment in the commonwealth," Gov. Bevin said. "China presents a great economic opportunity for our state, and we want to make as many connections as possible to ensure Chinese companies immediately think of Kentucky when they consider a location in the United States. More than 8,000 Kentucky workers are already employed by Chinese-owned companies, and we are excited about opportunities for further growth with this important global partner."
The Chinese delegation is expected to arrive today and meet with Gov. Bevin, local businesspeople, elected officials and economic development leaders from across the state this evening at the Governor's Mansion following a private tour of the Kentucky Capitol building. The meeting will allow the participants to discuss U.S.-China trade relations and address mutual ideas and concerns. The delegation will visit with local businesses tomorrow morning, before departing tomorrow afternoon.
"We have shown our commitment to making Kentucky a viable and active part of the global economy throughout this administration," said Erran Persley, executive director of International Affairs and Business Development at the Cabinet. "Much of that has included traveling to Asia to form and solidify valuable partnerships with our counterparts there. We are thrilled to welcome Ambassador Cui and explore ways in which Kentucky can expand international investment and find new markets for its products."
Currently, seven Chinese-owned companies employ nearly 8,200 people at seven facilities across the state, with more than 6,000 of those jobs located at GE Appliance Park in Louisville. Lexmark International Inc., headquartered in Lexington, is partly owned by Chinese company Apex Technology and employs approximately 1,600 people.
China is one of Kentucky's top trading partners, ranking fourth among the state's export destinations in 2017 and thus far in 2018. Exports to China increased by 60 percent in 2017 to an all-time high of $2.81 billion. This was due in large part to a substantial increase in the number of vehicles shipped to China, including the Lincoln Navigator and MKC.
For more information on Kentucky exports, visit www.KyExports.com.
Additional information about Kentucky's international efforts is available here.
Information on Kentucky's economic development efforts and programs is available at ThinkKentucky.com.