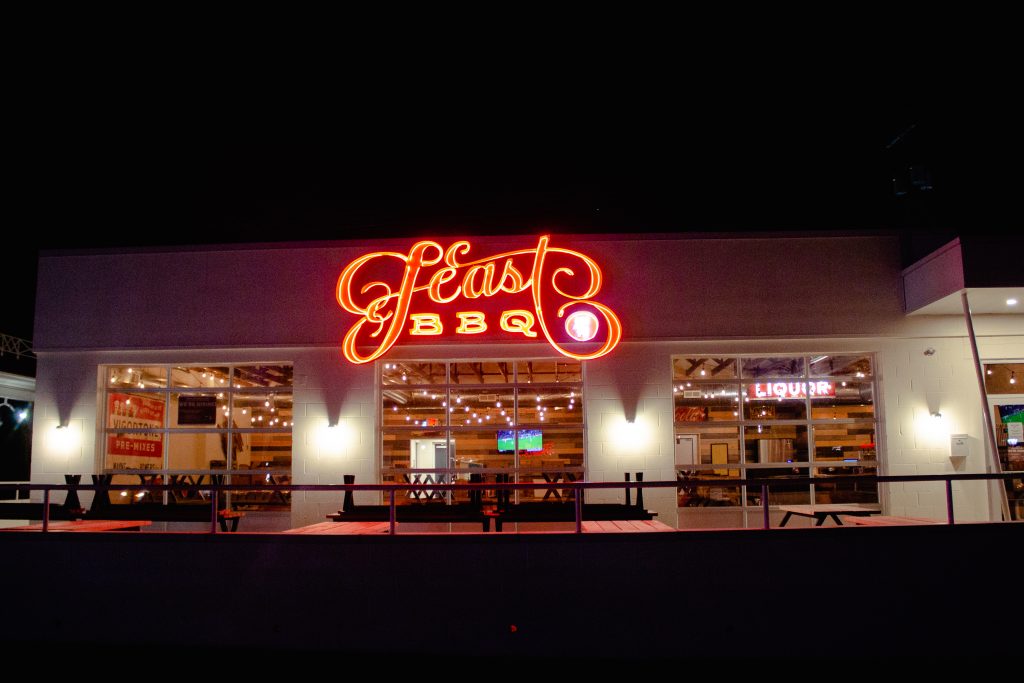 JEFFERSONTOWN, Ky. – The City of Jeffersontown's Gaslight Square District has become a desired entertainment destination known for its walkability and modern vibe. Over the last few years, investments by local business owners have boosted the dining and nightlife options in the town center — much to the satisfaction of Jeffersontown residents and the 30,000 people who make up the workforce there.
"It has been exciting to watch the array of restaurant and nightlife options continue to increase," said Jeffersontown Mayor Bill Dieruf. "The City of Jeffersontown has become an increasingly favored investment site of choice for food and beverage businesses."
Since 2015, 3rd Turn Brewing, Mac's Dough House, J-Town Beach volleyball center and sports bar, Recbar, have joined longtime town center businesses El Nopal Mexican Cuisine, Bearno's Pizza, and Karem's Bait & Beverage. Now Feast BBQ restaurant has opened on the southeast corner of Taylorsville Road and Watterson Trail.
"Feast brings new life to a significant corner in our downtown," Dieruf said. "It complements the synergy created by several entrepreneurial efforts that have emerged over the years on Gaslight Square."
The robust growth in this sector of Jeffersontown businesses did not occur by happenstance. Jeffersontown officials made strategic moves to attract more restaurants, nightspots and retailers, including the launch of a marketing campaign in 2016 to point out advantages of locating in the community. Then Jeffersontown adopted a new zoning designation that created a streamlined procedure for business owners so they can move more quickly through the regulatory process needed to gain permits and approvals.
"The steps from start to finish to open a business – particularly one in food and beverage service – can be incredibly complicated, time-consuming and costly," said Mike Kmetz, executive director of the Jeffersontown Economic Development Authority (JEDA). "We wanted to come up with a way to help business owners get their doors open sooner. And that's what we've accomplished."
Another effort to make Jeffersontown more attractive to business owners includes ongoing investments in streetscape improvements in and around Gaslight Square to enhance the atmosphere and walkability of the community. City leaders' efforts have paid off as new establishments continue to open their doors in Jeffersontown.
"Business owners — particularly in the food and beverage industry — are realizing there is a large pool of customers to be served in Jeffersontown during the business day in addition to evenings and weekends," Dieruf said. "The size and scope of the work force in Jeffersontown is significant. When everybody shows up for work on weekdays, Jeffersontown is one of the largest cities in Kentucky by the number of people within our borders."
Employers have noticed the benefits of locating in Jeffersontown, according to Kmetz. "We have a wide variety of service businesses that are convenient for their employees," he said. "The fact that there are plenty of restaurants and retailers here is appealing to businesses looking for a new location."
Beyond Gaslight Square, a number of other locally owned establishments call Jeffersontown home. They include PassTime Fish House, Carali's Rotisserie Chicken, Milantoni Italian Restaurant, Mussel & Burger Bar, FDKY BBQ, Havana Salsa Cuban Cuisine, Chubby Ray's pizza and sports bar and Brownie's The Shed Grille & Bar, which is expected to open in Plainview in September.
"We have a wide variety of food and nightlife options in Jeffersontown, which contributes to the notion that we are a city of options," Dieruf said. "In Gaslight Square we have a walkability that is attractive to millennials in particular. And with so many workplaces, neighborhoods and local dining options, Jeffersontown has developed a healthy symbiotic environment for all ages to live, work and play."