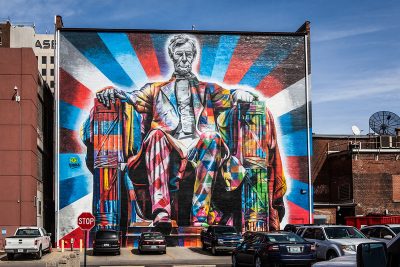 LEXINGTON, Ky. (August 31, 2018) – Lexington's Urban County Council took its support for public art to a new level Thursday night, approving an ordinance to set aside 1 percent of the amount the city borrows or bonds for capital improvements each year for public art.
"Art equals jobs," Mayor Jim Gray said. "For several decades, the city has supported the arts through its annual budgets. Because of the city's investment and support from businesses and generous citizens, we have a lively, thriving arts community that creates jobs, enriches our quality of life, and attracts businesses to Lexington. Last night's vote to support the arts community in a new way will change the landscape of our City."
Fifth District Councilmember Bill Farmer Jr. sponsored the Percent For Art ordinance.
"Last night a majority of the council kept Lexington on a beautiful path forward by giving final passage to 1 percent for art ordinance that will over time treat our city as a canvas for public art of all types," Farmer said. "I am proud of Jim Gray and the council for this bold addition to the great work this city does every day."
Farmer said a trip in the late '90s to Portland, Oregon, where public art flourishes, convinced him of the need for the ordinance.
Starting next July, an amount equal to 1 percent of all bonds for capital improvement projects will be set aside for the purchase, commissioning, installation and maintenance of public art. The ordinance is expected to generate approximately $300,000 annually.
Gray said the next step will be to put together a citywide public arts master plan.