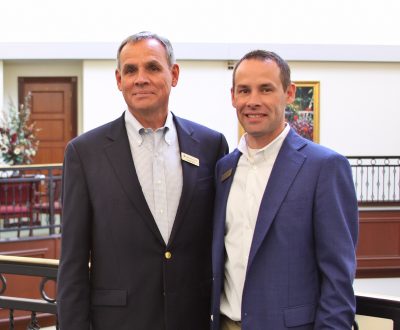 OWENSBORO, Ky. — Independence Bank has announced the leadership succession of Jacob Reid, executive VP, to the role of president. The transition took place following the approval of the transition by the board of directors on Oct. 9.
Chris Reid will remain in the positions of chairman and CEO and will continue to have a hands-on role with business strategy, development, and growth.
The leadership succession announcement comes in celebration of the 60th birthday of Chris Reid, who assumed the role of president in 1991 following in the footsteps of his late father, Charles A. Reid.
"My father was the American dream," Chris said. "He believed that we can make the world a better place, and that is what we believe at Independence Bank. We believe that at the heart of revolutionary banking is people; employees, customers, and community members. And Jacob has been a part of that revolution since birth; Janet would have him in a playpen behind the teller line as a baby. Now, 38 years later, he has become an instrumental part of our strategic leadership team and has been managing the day-to-day responsibilities of the president's position for the past three years. I cannot think of a single person who is better fitted to lead this revolution into its next phase than Jacob."
Jacob graduated from Brescia University in 2004 with a business degree and continued his experience working in the bank after graduation. He completed an intensive three-year banking school program through Graduate School of Banking at Colorado, a premiere graduate community banking school, in 2012.
Jacob has worked in many facets of the business, garnering experience in areas from the teller line to the information technology, secondary market and market development. In his most recent role, he has served as executive VP for the past three years, working alongside his father in strategic decision making and market growth in preparation for the succession.
"My first endeavor of working with Jacob was when Independence Square on Frederica Street was being constructed," recalled Ernie Davis, board member and original stock holder. "I didn't know Jacob at the time, but I quickly discovered he was a very sharp young man that the bank was lucky to have on its side. I couldn't be prouder to see him get this position than if he was my own."
Jacob's transition to the role of president will allow Chris to refocus his attention to areas of the business where his passion truly lies, including cultivating relationships with customers and potential customers in the communities Independence Bank serves, and the visiting the locations and employees of the bank.
"I am very thankful for the opportunity I have had to learn from my father and grandfather, and to be able to step into this role at the bank they built together," said Jacob Reid. "The pulse of this organization is the people that make up the Independence Bank team. I am fortunate to be able to work with such a talented group of individuals, and I look forward to continuing to be a part of this team as we work to move the bank forward."
Other strategic management promotions include the naming of Greg Mullican to vice chairman of the board, in addition to his current role as executive VP and chief lending officer. Mullican has been with the bank for 17 years, spending the last 15 years in his current role. As vice chairman, Mullican will work alongside chairman, Chris Reid, interacting directly with the board of directors on business strategy and implementation.
"I'm proud of what we have accomplished for our communities, employees, and shareholders over the last 17 years," stated Mullican. "I look forward to being able to do even more for these groups of individuals in the future."
Tawna Wright has been named chief operating officer, and will continue to serve as VP and human resource officer for the bank. She has been with the bank for 20 years and will oversee the day-to-day operations and functions throughout the bank. The addition of the role comes as a result of the growth of the bank and its expanding needs to serve all 12 markets and the locations that represent those communities.
"It has been such a rewarding experience to be a part of this organization for the past 20 years and to see it grow exponentially," said Wright. "I am excited to take on the role of COO, and look forward to working with our team to serve our communities and the individuals in them who have made that growth possible."
It is a time of celebration as the bank has experienced tremendous growth, recently reaching the $2.3 billion asset threshold, looks forward to the grand opening of a new signature location in Louisville, and recently broke ground on a new signature location in Frankfort.
For more information, contact Kayla Altman at [email protected].