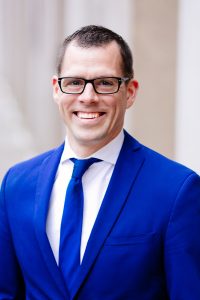 LEXINGTON, Ky. — The Lexington Marriott City Center Hotels have announced that Barry Kuhnke has been named general manager of the Lexington Marriott City Center and Residence Inn Lexington City Center. Kuhnke, a Marriott award-winning general manager, brings over 20 years of experience in the hospitality industry.
"After searching the entire nation for over a year to find the best of the best, we have found the right person for the job," said Phil Greer, CEO of Greer Companies.
Kuhnke grew up on a dairy farm in rural Bertha, Minn., and began his hospitality career as a bellman.  He worked in the industry full-time through school and earned a Bachelor of Science Degree in Hospitality & Tourism Management from North Dakota State University in Fargo, ND. Kuhnke has been a general manager with the Marriott family of brands for the last 12 years in Minneapolis, Fargo/Moorhead, Cincinnati, Memphis, and most recently Omaha. During these years, Kuhnke won the General Manager Service Excellence Award, the General Manager Sales Excellence Award, and multiple Platinum, Gold and Silver awards from the brands for Guest Satisfaction.  Additionally, Kuhnke's teams have twice won the Marriott International Quarterly Award for Community Service, as well as three consecutive years of raising the most dollars for Children's Miracle Network Hospitals with the Courtyard by Marriott brand.
"This is such an exciting opportunity on many levels," said Kuhnke.  "My family and I had our eyes on settling in Lexington since living in Cincinnati.  It's a true pleasure to be here working with a great group of leaders who are so passionate about this amazing project."
Kuhnke is married to his wife Courtney, and they have five children — Kalvin, Aubrey, Harlow, Lennon and Westin.
The Lexington Marriott City Center and Residence Inn Lexington City Center hotels are set to open in the fall of 2019.  Located at 121 W. Vine St., and 150 W. Main St., the hotels are owned by City Center Hotels — a company owned jointly by The Webb Companies and Greer Companies — and will be managed by NorthStar Hospitality LLC., both of Lexington, Ky.
The Marriott Hotel and Residence Inn will offer a combined 338 guest rooms and have over 10,000 square feet of flexible meeting space. Guests from each hotel will also have access to a rooftop pool and sky bar.  The Marriott will feature a Display Kitchen, M Club Lounge, Red Coat Direct, and Mobile Guest Services. The Greatroom lobby of the Marriott will create a seamless experience merging modern stylish design and comfort with technology.  The Residence Inn, an all-suite hotel, will offer complimentary breakfast and host a weeknight gathering for guests — the RI Mix.