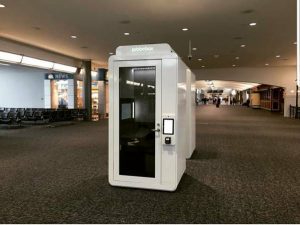 ERLANGER, Ky. — The Cincinnati/Northern Kentucky International Airport (CVG) on Monday announced that it launched Jabbrrbox's workspace solutions to serve the needs of business travelers. Jabbrrbox provides technology-equipped workspaces that provide privacy, security and connectivity to enable business travelers to be more productive when they're on the go.
"Airports are typically noisy spaces for making important sales calls or completing a critical proposal," stated Brian Hackathorn, co-founder and CEO, Jabbrrbox. "Plus, with today's mobile work demands, business doesn't stop when you're traveling. That's why we designed Jabbrrbox  to provide mobile workers with a quiet, comfortable place to work with access to Wi-Fi and USB charging."
Two Jabbrrbox units are now located in CVG's Concourse B – home to Delta and American airlines serving the needs of busy business travelers. Jabbrrbox is launching during a time of significant growth at CVG as it was recently named the fastest growing airport in the U.S. according to a recent report by OAG. The airport served 8.9 million passengers in 2018, an increase of 1.1 million passengers over 2017.
"With such a strong corporate footprint in the Cincinnati/Northern Kentucky region, we're always looking for ways to provide business travelers the best services to address their needs," said Candace McGraw, CEO, CVG. "We're excited to offer the Jabbrrbox units to our passengers to provide them with a quiet, productive place to work."
In addition to the two Jabbrrbox units installed at CVG between gates B9 and B10, Jabbrrbox has seven units serving the needs of business travelers at LaGuardia Airport's Terminal B, and another two units at the Pittsburgh International Airport. Jabbrrbox also plans to expand to other airports in the coming months and will continue to expand its solutions to include Bluetooth connectivity, screen share, speakers for hands-free calling, and cameras for video conferencing.
"We're thrilled with the interest we've received from airports across the country," said Jeremy Jennings, president, Jabbrrbox. "We look forward to bringing additional Jabbrrbox units online in the coming months as we expand our workspace service."