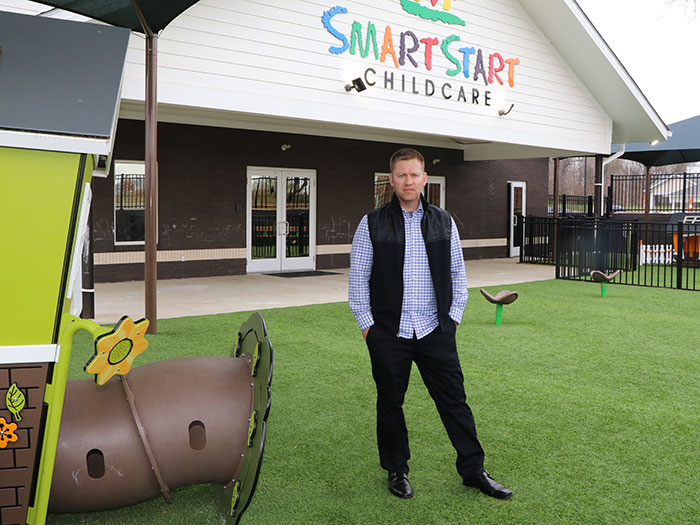 BOWLING GREEN, Ky. — Paul Isenberg, owner of Smart Start Child Care in Bowling Green, has been named the 2019 SBA Kentucky Small Business Person of the Year.
Administrator Linda McMahon, the head of the U.S. Small Business Administration, announced the 2019 Small Business Persons of the Year winners from the 50 states, the District of Columbia, Puerto Rico, and Guam. Each of the winners has been invited to attend ceremonies in Washington, D.C. on May 5-6, where they will be honored with their individual award. During the ceremonies, SBA will announce the 2019 National Small Business Person of the Year from the 53 winners from across the U.S. and territories.
"I am delighted to recognize the 53 winners from across the country as they gather in our nation's capital," McMahon said. "Entrepreneurs are the innovators who take risks on ideas, invest in their communities, and create jobs."
SBA Kentucky District Director Ralph Ross added, "Smart Start Child Care, LLC has defied the industry obstacles and become a great success. We congratulate Paul Isenberg and his team."
With a teacher and lender as parents, plus an undergraduate degree in education and an MBA, Isenberg decided to start an elite child care learning center in his hometown of Bowling Green. The first location was opened in late 2011. The SBA was involved almost immediately, as he applied for SBA loans to construct the building.
Isenberg faced many challenges: male owner/operator of a child care center, construction issues, cost overruns and more. Shortly after opening the first facility, his wife was diagnosed with a brain tumor. He had to care for his young daughter, attend to his wife's aggressive treatments and surgeries, and operate the new business.
Fortunately, his wife made a full recovery, and they were blessed with twins two years later. Also, the business began to grow rapidly.
Smart Start Child Care has continued to expand throughout the region. They now have 128 employees and educate over 400 children. Since 2016, revenue has tripled, and net profit has grown four-fold.
The SBA Kentucky District Office will have a celebration on May 8 at the Capitol Rotunda in Frankfort, where the following Kentucky entrepreneurs and advocates will also be honored:
Financial Services Advocate of the Year – SBA Bank Lender: Barry Frazier, Peoples Exchange Bank in Mount Sterling
Financial Services Advocate of the Year – SBA Microlender: Regina Becknell, Mountain Association for Community Economic Development (MACED) in Paintsville
Rural Small Business of the Year: James (Jay) and Michelle Tapscott, J-Mack BBQ, LLC in Gilbertsville
Veteran Owned Small Business of the Year: William (Will) Rivera, Running Soles, LLC in Elizabethtown