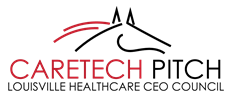 LOUISVILLE, Ky. — Louisville Healthcare CEO Council is now accepting applications for their CareTech Pitch Competition, an international competition that convenes investors, entrepreneurs, and enterprises to identify outstanding innovations to address the needs of unpaid caregivers.
"Unpaid caregivers provide an astounding $506 billion of free care every year. Many report that they operate in a near-constant 'crisis mode' and struggle to find relevant resources," said Tammy York Day, president and CEO of LHCC. "LHCC is creating a unique opportunity for entrepreneurs to put their disruptive technologies in front of some of the biggest customers in the healthcare industry."
Submissions will be reviewed by a panel of investors, subject matter experts in the caregiver space, other healthcare representatives, and members of LHCC: CEOs representing the nation's largest cluster of healthcare aging innovation corporations. LHCC encourages all companies to submit an application whether or not they are interested in pitching in May. LHCC companies are actively looking for solutions to pilot in their own organizations, and they view this process as a means to discover innovative companies providing support for caregivers, not solely a pitch competition.
After submissions have been reviewed, six finalists will be selected (three early-stage company applicants and three growth-stage company applicants) and invited to give a four-minute pitch to institutional and angel investors, LHCC CEOs, and other industry experts on May 2 in Louisville, KY.
The six finalists will receive:
A curated Kentucky Derby Weekend with Centers of Influence

2 Millionaire's Row tickets to the Kentucky Oaks (Early Stage)
2 Millionaire's Row tickets to the Kentucky Derby (Growth Stage)
Thursday evening LHCC speakeasy sponsored by Apellis Pharmaceuticals
Unbridled Eve Derby Gala
$2,000 Travel stipend
3-night accommodation
Kentucky Derby Day Green Room with Centers of Influence for PR and national media exposure (both early stage and growth stage)

Category winner will receive 15 minutes a quarter in front of LHCC Board
Additionally, one applicant (regardless of whether they participate in the May 2 pitch event) will receive A 2020 VIP Derby weekend experience.
Applications are now being accepted. The deadline to apply is April 12, 2019 and can be submitted through the f6s application platform https://www.f6s.com/caretechderbypitchcompetition/apply.