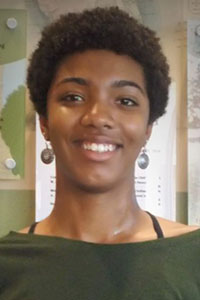 BEREA, Ky. — Shyeila "Shy" Bowers, a junior at Berea College, is one of 262 students named as a Newman Civic Fellow for 2019-20 by Campus Compact, a Boston-based non-profit organization advancing the public purposes of higher education.
"Shy is a hard-working and positive student leader and undergraduate scholar," said Berea College President Lyle Roelofs. "She uses her community-building approaches to promote dialogue and action to address pressing social issues."
"I've resided in communities often deficient in resources, but rich with compassion," Bowers said. "Volunteerism and adopting a life of selfless service were values instilled in me at a young age, and I recall volunteering; however, I realized my efforts were temporary solutions to the systemic issues that plagued my community. So, I began seeking methods for transformative action."
At Berea College, Bowers was selected as a Bonner Scholar, a service and leadership program empowering students to become solution seekers. She developed her capacities as an agent of social change by serving as the student coordinator for the Diversity Peer Education Team (DPET), helping cultivate opportunities for individuals to freely engage in critical dialogue.
As a DPET member, Bowers collaborates with peers and mentors on educational workshops, called TRUTH (True Racial Understanding through Honest) Talks. TRUTH Talks are facilitated by students for the campus and broader communities, during which attendees are invited to participate in critical dialogue about controversial topics.
"Shy reflects an attitude of kindness in her interpersonal reactions, while remaining committed to empowering herself and others to productively discuss challenging topics for positive social change," Roelofs said.
Bowers, who expects to graduate in 2020, is a double major in elementary education and peace and social justice.
The Newman Civic Fellowship, named for Campus Compact co-founder Frank Newman, is a one-year experience emphasizing personal, professional and civic growth for students who have demonstrated a capacity for leadership and an investment in solving public problems.
Through the fellowship, Campus Compact provides a variety of learning and networking opportunities, including a national conference of Newman Civic Fellows in partnership with the Edward M. Kennedy Institute for the United States Senate. The fellowship also provides fellows with access to apply for exclusive scholarship and post-graduate opportunities.
"We are proud to recognize each of these extraordinary student leaders and thrilled to have the opportunity to engage with them," said Campus Compact President Andrew Seligsohn. "The stories of this year's Newman Civic Fellows make clear that they are committed to finding solutions to pressing problems in their communities and beyond. That is what Campus Compact is about, and it's what our country and our world desperately need."
The Newman Civic Fellowship is supported by the KPMG Foundation and Newman's Own Foundation. Learn more at compact.org/newman-civic-fellowship.