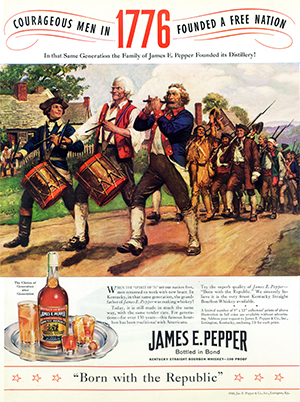 LEXINGTON, Ky. — The popularity of American whiskey is at an all-time high and craft distilleries continue to spring up across the country, but few of them have a story to tell like that of James E. Pepper Distillery.
The Pepper story spans generations and that distilling tradition is once again honored today with award-winning whiskies and a rebuilt historic distillery to produce them.
The Pepper family began in the whiskey trade at the dawn of the Revolutionary War and handed down the family business for three generations. Their whiskey was some of the most respected and sought after of the time, and their work was intertwined with some of the key developments in American whiskey, including the sour mash process, the Old Fashioned cocktail and the Bottled in Bond Act of 1897.
Whiskey was produced under the Pepper label until 1961 when bourbon fell out of favor with consumers and there was an overproduction in the industry. The Lexington Distillery was then closed and fell into disrepair. It sat abandoned until 2008 when the Pepper brand was acquired and the passion of whiskey entrepreneur, Amir Peay not only resurrected the band, but also brought the distillery back to life.
"I discovered the Pepper story and immediately became captivated," said Peay. "The Peppers have such a rich and colorful history in the industry. I knew that I wanted to be a part of that, to retell this lost story, bring back an iconic piece of Americana and make high-grade whiskey inspired by that tradition."
Peay has spent more than a decade researching the Pepper family history and has painstakingly rebuilt the distillery to its former glory.
Whiskey Enthusiasts can visit the distillery and learn all about the Peppers and the whiskey they made in its museum. While honoring the
past by distilling historic recipes, Peay is also looking to the future with new whiskey mash bills and distillation techniques that provide whiskey drinkers with the optimum tasting experience.
Most recently three of the Pepper whiskies took home Double Gold Medals from the San Francisco World Spirits Competition—the event's highest honor. These awards add to the growing list of recognition the 1776 and Old Pepper line of products have received.
The 1776 line of whiskies are available across the U.S., while the limited release Old Pepper products can be found at the distillery gift shop and select markets. The distillery is open Wednesday – Sunday for tours or for guest to stop by and sample the whiskey or partake of an Old Fashioned Cocktail. For more information please visit www.jamesepepper.com.