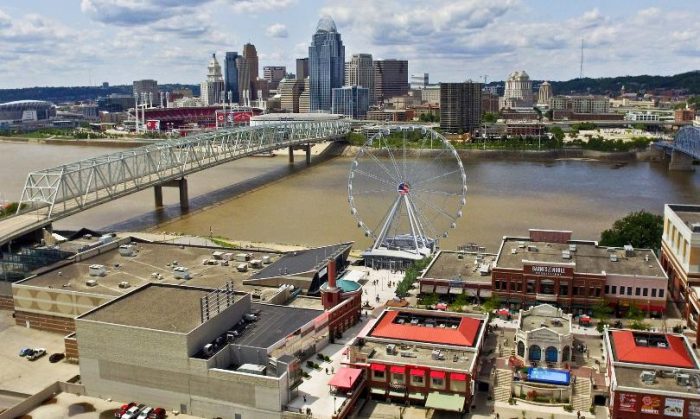 NEWPORT, Ky. — With a mission of 'Developing a Better World', North American Properties begins the process of re-activating and reenergizing the sizable development property of Newport on the Levee.
Taking another step to create a walkable, mixed-use Newport, North American Properties' Chief Investment Officer Tim Perry states, "There is no better time to reimagine this vibrant riverfront destination. The walkable community, panoramic views, and regional draw have created the opportune moment to enhance the genuine guest experience, working with existing attractions and tenants as well as new restaurants and retailers seeking such an inviting place to embrace Northern Kentucky and Cincinnati."
As reported back in May 2018, North American Properties set its sights on visualizing what Northern Kentucky could be.  Earlier this year, North American Properties selected the team at Reztark Design Studio to help create this vision. J.S. Held, led by Michael Collins and Michael Thiess, acts as owner's representative to coordinate project related efforts with the investment team, design professionals, construction manager, operations staff and tenants. As a continuation of that process they sought out partnerships from a construction perspective, subsequently selecting Turner Construction as the construction manager to lead the physical redevelopment.
"We are envisioning the possibilities of dynamic indoor and outdoor spaces for activation and events as well as the interplay of long-term relevant tenant relationships, both existing and new, to provide a year-round venue that attracts people that live, work and play in the region," said Brett Kratzer, president of Reztark Design Studio.
 "Adaptability, flexibility and an unwavering mission to provide an enhanced guest experience, will be the key components during this process as we seek to maintain the occupancy of the current tenants leasing space within the Newport on the Levee development," said Tim Perry of North American Properties. "We have found a construction partner that has a proven history of being nimble and reliable in such circumstances."
Turner Construction's selection as construction manager builds up an existing relationship with North American Properties at Court and Walnut, and follows their recent completion of the $156 million renovation of the Cincinnati's iconic Union Terminal.
"We are thrilled for the opportunity to work with North American Properties, J.S. Held and Reztark in the revitalization of such a prominent development in our area," said David Spaulding, Turner Construction.  "The impact of this project will be far greater than anything anyone can imagine. This team is focused on developing the future of this destination."