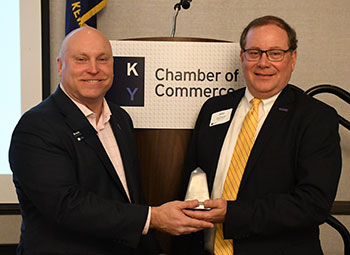 FORT MITCHELL, Ky. — During the Northern Kentucky Chamber of Commerce's annual Legislative Appreciation Breakfast Thursday at the Hilton Cincinnati Airport, Chamber President and CEO Brent Cooper presented Heritage Bank's Senior Vice President John Nienaber with the Northern Kentucky Community Award.
Nienaber has served as the NKY Chamber's vice chair of public affairs for the past two years, and on the NKY Chamber's Executive Committee for the past five years. He is an alum of Leadership Northern Kentucky, Class of 1981. Nienaber will be retiring next month from Heritage Bank.
"John Nienaber is the perfect embodiment of how members can get engaged in our chamber and make a difference," said Cooper. "As vice chair, John has worked diligently with both business leaders and elected officials. His hard work on behalf of the NKY business community has been noticed and deeply appreciated. He has guided our business members towards productive advocacy that benefits our whole region, and we cannot thank him enough."
The NKY Community Award, sponsored by Central Bank, is awarded to exceptional individuals, businesses or organizations that have helped to advance or promote the region. Nominations are open to the community, and awards are presented throughout the year as nominations are received.
Individuals interested in learning more about the NKY Community Award, or in submitting a nomination, should contact Lynn Abeln at [email protected].