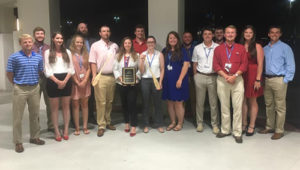 BOWLING GREEN, Ky. — WKU civil engineering students finished fifth overall in the 2019 National Concrete Canoe Competition last weekend in Melbourne, Fl.
The team also finished fifth in technical paper, fifth in final product, ninth in oral presentation, sixth in women's slalom, seventh in men's slalom, eighth in women's sprint, eighth in co-ed sprint and ninth in men's sprint.
WKU's StalacTOP (207 pounds and 20 feet long) was one of 24 entries from around the world in the American Society of Civil Engineers competition, hosted by the Florida Institute of Technology June 6-8.
The top five finishers in overall results were University of Florida; California Polytechnic State University, San Luis Obispo; Université Laval; Tongji University; and WKU. Additional results are available at https://www.asce.org/concrete-canoe-results/
Canoe team members who participated in the national competition include Katy Bridges of Merry Oaks (co-captain, coed sprint, women's slalom, presenter); Morgan Hertelendy of Louisville (co-captain, women's sprint, presenter); Kaitlin Berry of Manchester (presenter); Rebecca Beauchamp of Eastview (coed sprint, women's slalom); Rebecca Hurley of Park City (women's sprint); Colby Nicholson of Manchester (presenter); Luke Edmunds of Beckton (presenter, men's slalom, coed slalom); Logan Bell of Summer Shade (men's sprint); Trey Emmert of Tompkinsville (coed sprint, men's slalom); Jared Searcy of Bowling Green (men's sprint); Stacey Beutjer of Johns Creek, Georgia; Matthew Gregory of Monticello; Tate Harris of Crab Orchard; Austin Loney of Madisonville; and Colton McGlone of Harrodsburg.
WKU's ASCE student chapter earned most improved chapter for all ASCE student chapters, was a finalist for the Ridgway Award (one of the top five ASCE student branches) and staff engineer Tyler Baker was named ASCE practitioner of the year.
The civil engineering program is part of WKU's School of Engineering and Applied Sciences.