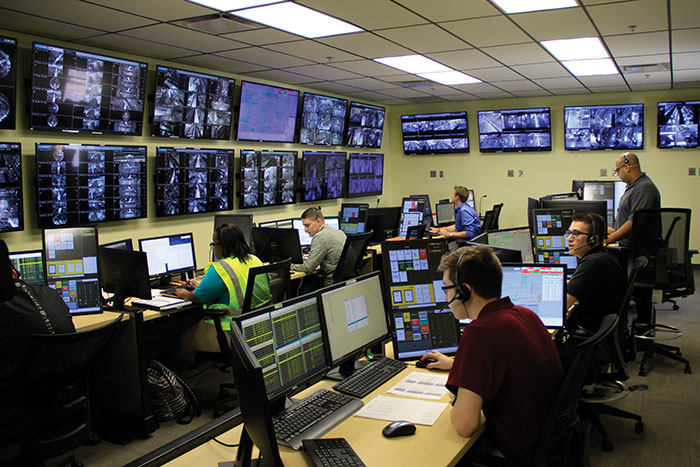 Kentucky's reputation as a transportation and logistics industry center continued to grow in May when Amazon founder and CEO Jeff Bezos showed up in Hebron to break ground for a $1.5 billion Prime Air hub at the Cincinnati/Northern Kentucky International Airport.
The 3 million s.f. Prime Air freight shipping operation – scheduled to open in 2021 – will be Amazon's first and allow it to improve two-day Prime customer delivery to one day, Bezos said.
Prime Air and its planned 2,200 employees will literally be right across the street from the DHL Express Americas Hub, where the German-based international express services provider – the largest in the world – employs more than 3,000 workers and has invested $280 million in the past decade.
Quietly overshadowing the pair of large operations at CVG, however, is the biggest reason Kentucky is a logistics giant, UPS Inc.
The $71 billion juggernaut employs almost 29,000 people in Kentucky in package delivery operations, aircraft operations, ground freight, health care logistics and contract logistics. The company is based in Atlanta, but its UPS Airline – the nation's seventh largest airline – is in Louisville, where Worldport airfreight hub operations ship millions of items to every corner of the Earth every day of the year.
---
IT'S FREE | Sign up for The Lane Report email business newsletter. Receive breaking Kentucky business news and updates daily. Click here to sign up
---
The nuts and bolts of its Louisville operations are tucked away in south-central Jefferson County, both adjacent to and just minutes away from the Louisville Muhammad Ali International Airport.
The day after the Prime Air groundbreaking, UPS completed a $310 million multiyear expansion of its Centennial ground hub in Louisville. The project adds 300 full- and part-time positions as part of the 838,000-s.f. expansion that more than triples the size of the facility to over 1 million s.f.
The Centennial growth doubles the company's sorting capacity to 85,000 packages per hour, with additional sorting automation equipment to accommodate increased e-commerce and traditional retail package business.
Recently, at its 4.2 million-s.f. Supply Chain Solutions campus in Louisville, UPS disclosed data from a new study assessing its economic impact across the commonwealth. Conducted by former Kentucky state economist Manoj Shanker, the study revealed some impressive data about the city's largest employer.
UPS employees have an average salary of $77,000 per year, and its annual payroll tops $2.5 billion. The company has spurred $2.4 billion in construction projects over 20 years, and some 200 companies have relocated to Kentucky to be near the shipper. Those firms have brought with them an additional 62,000 jobs. More than $300 million in tax revenue – 2 percent of all state and local tax dollars – in Kentucky is created by UPS activities.
Although the company's most familiar emblem may be its international fleet of 123,000 delivery trucks, a sizable chunk of its business is centered around its mammoth air operations, based in Louisville, along with a growing line of supply-chain services it provides.
Beyond shipping to supply chain
The March press conference was a chance for news media to observe an expanding part of UPS's business, Global Logistics and Distribution.
Launched in 1996, the logistics and distribution arm accounts for nearly 20 percent of the company's total revenue, according to the 2018 UPS annual report. (The other 80 percent align with domestic and international package delivery.) The logistics facility processes more than 250,000 transactions per day and lies just 5 minutes from the Louisville Muhammad Ali International Airport. Capacity exists to house customer inventories and to supply workers to ensure quality control before shipments to other businesses or consumers.
According to a UPS fact sheet, the facility can reach 62 percent of the U.S. population within two days via the company's ground service.
Health care clients are the biggest portion of that business – 40 percent (1.7 million s.f., to be exact) of Global Logistics and Distribution is specialized facilities for health care shipping. Materials can be handled with FDA and other regulatory compliance in a temperature-controlled environment. UPS employs pharmacists to fulfill medication and medical device shipments, which can be stocked and inventoried, even down to processing product returns for eligible products.
During the news conference, reporters saw a guided tour of a UPS Supply Chain Solutions facility dedicated to serving one health care customer, Cologuard, whose product is an in-home colon cancer screening test. Under a banner proclaiming, "It's not a package, it's a patient," a cadre of UPS workers readied the tests for shipment to consumers. Once patients supply test specimens, UPS ferries them back to Cologuard's lab in Madison, Wis., within three days, a feat Cologuard President Mark Stenhouse, on hand for the tour, said required UPS expertise.
"Our partnership with UPS is critical, because UPS knows logistics, and Exact Sciences knows the science of colorectal cancer," Stenhouse said. "We don't know how to ship over 1 million kits last year into patients' homes and get them back to our lab in Madison. We had to sit down with a partner."
UPS supports Cologuard and other clients by way of its sizable air operations, including a fleet of nearly 250 planes, the largest of which can hold 300,000-pound payloads. UPS owns 10 of these Boeing 747-8Fs, with an additional 18 on order. The "smaller" Boeing 767-300s, which can hold 132,200 pounds, comprise 62 of the total arsenal, with nine additional planes on order. From the smallest 757-200, with a length of 155 feet, to the largest 747-8F, with a 250-foot length, each plane is served by a two-person crew.
UPS Airline operations alone employ 17,579 workers, with hubs in five other U.S. cities: Philadelphia; Dallas; Miami (serving Latin America and the Caribbean); Rockford, Ill.; and Ontario, Calif. International hubs operate in Shanghai and Shenzen, China; Hong Kong; Cologne/Bonn, Germany; and Hamilton, Ontario. Including Louisville, the 11 hubs direct 1,138 domestic and 1,182 international flights each day, serving 400 domestic and 415 internationally airports.
Adapting to the marketplace
The changing retail landscape and ongoing rise in e-commerce the past two decades has prompted change at UPS and almost ensures the package delivery business won't go away any time soon. To help homes and small businesses track packages, UPS offers My Choice, a system that alerts customers when deliveries are upcoming and lets them redirect a package to an alternative location if they aren't at home.
This recent additional service continues UPS's long history of adaption to market forces. Since 19-year-old founder Jim Casey launched the firm in Seattle, Wash., in 1907 with a $100 loan (equivalent to more than $2,600 in today's currency), the company has reimagined and revamped itself several times to address customer needs.
The first threat to the business came in the form of cars and telephones, but as public relations manager Jim Mayer explains, Casey survived by evolving the business model into a delivery service for department stores. Shortly after the purchase of its first Ford Model T automobile, the company renamed itself United Parcel Service and carved a successful niche for itself the next three decades.
At that point, returning troops from World War II spawned the baby boom generation and drove outmigration from cities to suburbs.
"The future of retail delivery was limited," Mayer said. "Seeing this shift, UPS managers at the time looked for other opportunities, and found them in expanding 'common carrier' service – rights to deliver packages between all customers, both private and commercial."
That vastly expanded the customer base beyond just shipments to burgeoning middle-class shoppers. Packages now could be sent from factories to stores and to every other link along the supply chain. Despite competition from the U.S. Postal Service and lagging interstate commerce regulations, UPS triumphed, and by 1975 its reach had encompassed the entire continental U.S.
Mayer acknowledges e-commerce continues to generate pressures with rising demand for package delivery and said UPS is making infrastructure investments to keep pace.
"We're in the process of purchasing 40 new aircraft (the next Boeing 747-8 arrives in the coming weeks), while extending package-sorting automation throughout our network," he said. "Last year, UPS opened 21 new or renovated facilities around the world, and another 18 are set to open this year."
UPS as corporate citizen
UPS's own assessment of its economic contributions is positive, of course. Independent analysts caution that numbers require evaluation.
At the University of Kentucky, Michael Clark is the associate director for the Center for Business and Economic Research in the Gatton College of Business and Economics. He suggests a large employer's benefits can depends on one's perspective.
"For example, a large new employer may attract new residents to the city and push rental prices up," Clark said. "Higher rental prices are good for those who own the property but raise costs to renters. Policymakers should understand that these benefits and costs might not be evenly distributed across residents."
You would be hard pressed, however, to find any local or state public official who would throw shade at UPS or its contributions to the commonwealth. Representatives for Louisville Forward, the city's economic development arm, and Greater Louisville Inc., the city's chamber of commerce, as well as the Kentucky Cabinet for Economic Development all speak glowingly of the city-company partnership.
Sarah Davasher-Wisdom, chief operating officer of Greater Louisville Inc., lauded the company's philanthropic impact via educational programs as well as its role in attracting and retaining other industries to the area.
"UPS is so important to what we do every day," Davasher-Wisdom said. "One of our primary functions at GLI is attract jobs to our region, and it's not unusual for us to go into an existing business and say, what is it that you like about living here, being here? What is it that made you locate here in the first place? And they always almost say, 'Because Worldport is here.'"
UPS first dubbed its Louisville operation Worldport in 2002 upon completion of a $1 billion Hub 2000 expansion that doubled its size. Package sort capacity grew another 37 percent with subsequent expansions. Operations today handle 416,000 packages per hour in a facility whose perimeter spans 7.2 miles. The now-5.2 million-s.f. Worldport package-handling facility last expanded in 2006, a project that triggered the company's last major impact study.
Louisville's unique partnership with UPS is a "long-term relationship" with supportive elements, Louisville Forward Chief Mary Ellen Wiederwohl said in a written statement.
"Our economic development team works in tandem with their business development team to attract new business and (support) the expansions of their existing operations such as the Centennial hub," Wiederwohl said. "All of our incentives with UPS are part of common state and local incentive programs administered by the Kentucky Cabinet for Economic Development."
Among the positive partnership elements Wiederwohl mentions is Metropolitan College, a program launched two decades ago allowing students to receive tuition remission in exchange for working at UPS. Offered through UofL and Jefferson Community and Technical College, the program pays for undergraduate degrees at either institution, plus "book reimbursement money, bonuses and other benefits," according to the program's website.
Since 1998, Mayer said, over 5,500 students have earned more than 9,200 degrees and certifications through Metropolitan College. UofL even has special student housing space and class schedules for participants.
"UPS pays for half of the tuition, the state covers the other half through a tax credit, and the city covers the cost of staff and other expenses to support the students and manage the program," Mayer said. "UPS's tuition bill since then is $107 million, but it's a great investment. We get a stable, committed workforce and end up hiring some of those students after graduation."
Regarding the state's financial incentives to UPS and others, which still are occasionally criticized as gifts, Erran Persley, commissioner with the Cabinet for Economic Development, characterized them not as "blank checks" but as partial rebates available when a firm generates new jobs or tax revenue.
The benefits of economic development incentives outweigh the risks, Persley said.
Incentives are "a fraction of the new-to-Kentucky revenue generated by that particular taxpayer's project, (revenues) which otherwise wouldn't have existed," he said.
The main catalyst for UPS to apply for tax credits and other incentives was either expanding or adding jobs, Mayer said.
"But as the recent economic analysis showed, the city and state are getting an incredible return on investment in incentives with UPS," he said. "The company is responsible, directly and indirectly, for more than 2 percent of all state and local taxes collected in the commonwealth."
---
Robert Hadley is a correspondent for The Lane Report. He can be reached at [email protected].