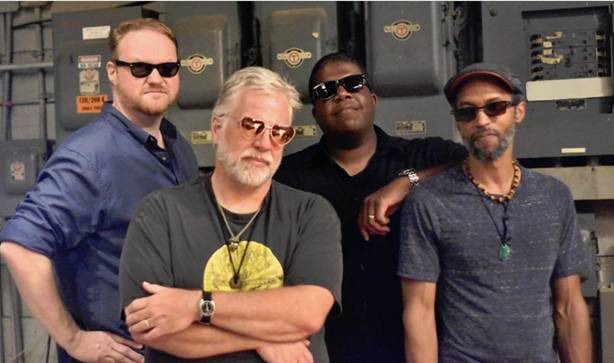 LEXINGTON, Ky. — Red Barn Radio will begin its 18th broadcast season on Wednesday, Aug. 7 with its 683rd live concert recording featuring music and conversation from The Blue Crawdads at the Performance Hall at ArtsPlace, 161 North Mill Street, Lexington, Ky.
The Blue Crawdads came together through Union College and a pop-up nightclub called the Crawdad Club. Andy Messer and Derryl Harper both attended Union in the 1980s and played their first show together there in 1985, going on to team up in several bands over the coming years. Eventually, Andy became a faculty member at Union, and he and his wife, Tina, started hosting house concerts in a small room in their home that they named the Crawdad Club. In 2014 Andy and Derryl decided to start a new band to be based at the Crawdad Club. They recruited UC IT staff-member Jesse Barton on bass and admissions counselor Keith Greene on drums. The Blue Crawdads were born.
In the nearly five years The Blue Crawdads have existed as a band, they have produced three EPs (Bluefield, A Crawdad Christmas, and the most recent,Take You There), a live album (Live: Straight from the Mud), and a CD single, "Just a Closer Walk," recorded live at the Crawdad Club and featuring mandolin virtuoso Virgil Bowling.
Derryl Harper and Andy Messer have played in bands and written songs together on and off for 34 years.  Harper also produces The Blue Crawdads' recordings.
Jesse Barton played in the bluegrass band, The Davis Benders, before joining The Blue Crawdads.
Keith Greene has performed throughout the USA with artists such as Sunny Gunn, Lazer Lloyd, The Tarshack Revival, and SEED.
In addition to watching the show as part of a live studio audience, fans can tune in to a live broadcast of Red Barn Radio every Wednesday on the show's Youtube channel. For more information visit RedBarnRadio.com.