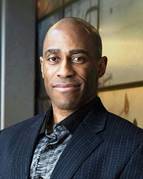 LEXINGTON, Ky. — Detroit native and University of Kentucky graduate, Whit Whitaker, has been named the new executive director of the historic Lyric Theatre and Cultural Arts Center.
"Whit is no stranger to the Lyric," said Councilmember James Brown. "He knows the theatre and has performed on its legendary stage. We're excited about the energy and enthusiasm Whit brings to position, in addition to his experience as a performer and leader in the arts community."
Whitaker brings several years of experience to the position, with his most recent stint as the choral business director for The Lexington Singers. He also served as an administrative liaison with Global Creative Connections and honed his customer service skills as a healthcare administrator at the University of Kentucky.
"I am thoroughly pleased with the selection of Whit Whitaker as the new executive director of the Lyric Theatre & Cultural Arts Center," said Chester Grundy, who served as interim executive director since April. "Not only does he bring a wealth of experience as a seasoned artist, but he is a familiar, highly respected professional throughout the Central Kentucky arts community. I think he's a perfect fit for the Lyric and I look forward to supporting his success as he steps up to his role as executive director."
Whitaker earned his bachelor of music and master's degree in arts administration from the UK.
Whitaker said, "I am humbled and honored to be afforded the privilege and opportunity to lead this historic organization and helping to write new chapters in its history alongside of the wonderful staff employed by The Lyric Theatre and Cultural Arts Center. I look forward to increased community engagement and arts partnerships with the surrounding local communities and beyond."
Whitaker assumed his new role on Aug. 5. The Lyric will host a community meet and greet for the new director in the near future.