By Kathie Stamps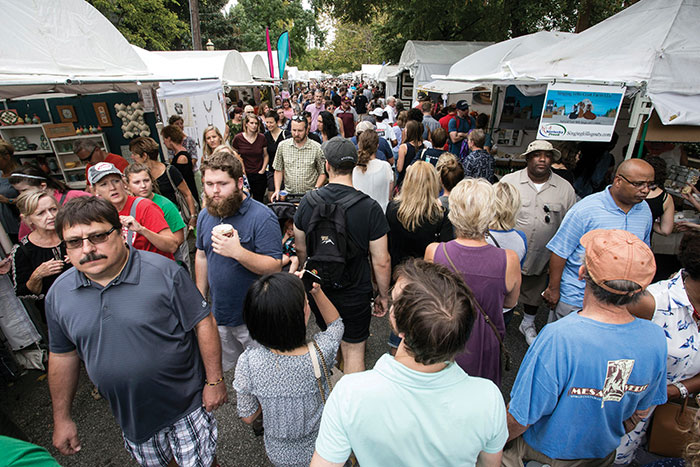 Imagine a marketing plan for the arts and a strategic plan for culture. Louisvillians have done that, and it's a community cultural plan called Imagine.

The full title is Imagine Greater Louisville 2020. With the support of Louisville Metro Council and Fund for the Arts, Imagine has five priorities: access, cultivation, education, inclusion and promotion. The plan's blueprint was created from community feedback and input.
In February 2019, the Imagine steering committee announced 15 artists, groups and schools as grant recipients totaling nearly $50,000 for the program's second year. In the first year of Imagine, 24 projects served 32,730 people with 3,000 hours of programming in 100 locations throughout 40 zip codes.
Look for the first Imagine Mural Festival in fall 2019, a two-week festival of public art throughout Louisville's Smoketown neighborhood. Sponsored by the city, Fund for the Arts, the Imagine Greater Louisville 2020 Steering Committee, and Louisville Visual Art, the theme for the inaugural festival is "Lean Into Louisville," an initiative launched early in 2019 by Mayor Greg Fischer and Louisville Metro Government to explore and confront the history and legacy of all forms of discrimination and inequality.
Funding the arts
Founded in 1949, Fund for the Arts is the third strongest united arts campaign in the United States, thanks to 16,000 donors; 1,100 campaign volunteers; 400 corporate partners; and 200 workplace campaigns. The organization provides access grants and project grants to 100-plus individual artists and organizations, arts-in-education grants to more than 250 regional schools, and 21 "sustaining impact grants" (up from 14 in 2017).
In 2018, having adopted the five Imagine priorities for its own organization, Fund for the Arts changed its grantmaking process so that applicants must demonstrate capabilities in the five priorities. In Q4 2018, sustaining impact grants totaling $3.7 million were announced for 21 nonprofit arts organizations that will engage 2 million audience members at 8,200 arts events per year and realize an economic impact of $124 million. Those nonprofits include Actors Theatre of Louisville; Arts Association of Oldham County; Louisville Ballet; Louisville Visual Art; River City Drum Corp; Speed Art Museum; West Louisville Performing Arts Academy; and the Louisville Orchestra.
Timeless favorites
Established in 1937, the Louisville Orchestra operates with an annual budget of $7.3 million. Under the direction of Music Director Teddy Abrams, the orchestra reaches more than 100,000 people every year through 200 performances, ensemble visits and impact events in 84 different locations. In March, the Louisville Orchestra appointed Robert Massey as CEO.
"I'm honored to join an orchestra that is part of a vibrant and collaborative arts community," Massey stated in a news release.
Another longstanding favorite in Louisville is the Speed Art Museum, a beautifully renovated space that spans more than 6,000 years of human creativity, culture and experiences.
Louisville's Kentucky Shakespeare performed "Macbeth" at Picasso Pointe as one of 28 neighborhood park performances in the region. The sixth annual "Shakespeare in the Parks" spring tour started out in 2014 with nine stops, and now that number has tripled, thanks to 20 Louisville Metro Council members and other organizations and municipalities that are sponsoring performances.
In its 59th year, the Kentucky Shakespeare Festival from May to July featured "As You Like It," ''Henry IV Part II" and "King Lear." All performances are free and take place at Central Park in the Old Louisville neighborhood. Prior to each show, a "Kids' Globe" tent offers hands-on, interactive arts activities, also at no charge, through a project grant from Imagine Greater Louisville 2020.
Olmsted Parks Conservancy, a nonprofit formed in 1989, has a mission of protecting and restoring the city's parks and parkways. Nearly a century earlier, in 1891, Frederick L. Olmsted designed Louisville's park system, which today features six parkways and 18 parks. "Olmsted's Louisville" is the latest exhibit on display at Frazier History Museum, an affiliate of the Smithsonian Institution, located in the Bourbon District of downtown Louisville.
Olmsted Academy North Middle has a school choir named "The Ambassadors." In April they performed at Frazier History Museum, where they were surprised with tickets to see "Hamilton," courtesy of the Louisville Theatrical Association, which maintains the PNC Broadway in Louisville series. The award-winning "Hamilton" musical scheduled two dozen performances at the Kentucky Center in June to close out the 2018-19 season. The 2019-20 season starts in October with "Dear Evan Hansen" and will feature "Jesus Christ Superstar" and "Miss Saigon" among others.
Also, the Kentucky Center now has a new performance venue, Old Forester's Paristown Hall, as of summer 2019. The $12 million, 28,000-s.f. building is in the east downtown area, between Vine and Brent streets, for hosting community events, conventions, festivals, fundraisers and other programs and performances. Old Forester serves as the title sponsor for the venue.
Thriving arts hub in Jeffersonville
Across the river, the Jeffersonville Public Art Commission and the Jeffersonville Arts Alliance spent six months to prepare for a one-day JAM session in April 2019. Standing for Jeffersonville Art Movement, JAM is a 30-foot long piece of art – a mosaic – at the NoCo Arts Center. Designed by people in the community, the project was funded in part by a grant from the Indiana Office of Tourism Development.
Short for North Court District, NoCo encompasses 22 blocks north of Court Avenue in Jeffersonville. In December 2018 the area was accredited as a cultural district by the Indiana Arts Commission and features outdoor art and murals, a local history museum, a vintage fire museum, a park called Picasso Pointe that has a performance green space and a 70-foot-long community table, sculptural lighting designed by local elementary school students, and the NoCo Arts Center itself, which is located in a former auto body shop.
Entertaining at Yum!
Major musical acts and performers frequently visit Louisville thanks to the KFC Yum! Center, which also plays host to University of Louisville basketball. In March 2019, Metallica's "WorldWired Tour" set a record at the KFC Yum! Center with a crowd of 23,084 fans, breaking the previous attendance record set by George Strait five years earlier. Last year, four other acts had the top-selling shows of their tours at the KFC Yum! Center: Kid Rock, Pink, Elton John and Bob Seger.
IMAGINE
Greater Louisville 2020
Access: more art for more people in more places.
Cultivation: thriving institutional and emerging organizations and creative industries.
Education: so that all schoolchildren can participate in arts and culture.
Equity, Diversity, Inclusion: a more equitable, diverse and inclusive community.
Promotion: to have Greater Louisville recognized regionally, nationally and globally as a leading city of arts and culture.
---
A Sampling of 2019 Regional Festivals
APRIL/MAY
Kentucky Derby Festival
kdf.org
MAY
Abbey Road on the River
Jeffersonville, Ind.
arotr.com
Kentucky Reggae Festival
kentuckyreggaefestival.com
Shakespeare Festival in Central Park
(through Aug. 4)
kyshakespeare.com
JUNE
Bourbon City Street Concert
Bardstown
bardstownmainstreet.com
Kentuckiana Pride Festival
kypride.com
Kentucky Bourbon Affair
kybourbonaffair.com
JULY
Forecastle Festival
forecastlefest.com
AUGUST
Kentucky State Fair
kystatefair.org
Old Lou Brew Craft Beer Festival
oldloubrew.com
SEPTEMBER
Bourbon & Beyond Festival
bourbonandbeyond.com
Hometown Rising Country Music & Bourbon Festival
hometownrising.com
Kentucky Bourbon Festival
Bardstown
kybourbonfestival.com
Louder Than Life
louderthanlifefestival.com
Trimble County Apple Festival
Bedford
trimbleapplefest.org
OCTOBER
Craft Beer Festival
Bardstown
bardstowncraftbeerfest.com
Garvin Gate Blues Festival
garvingatebluesfestival.com
Harvest Homecoming Festival
New Albany, Ind.
harvesthomecoming.com
NOVEMBER
Light Up Louisville
louisvilleky.gov/government/city-events/light-louisville
Smoketown Mural Festival
fundforthearts.org/mural-festival
---
Arts Organizations and Venues
1619 Flux Art + Activism
1619flux.org
21c Museum
21cmuseumhotels.com
Actors Theatre of Louisville
actorstheatre.org
B. Deemer Gallery
bdeemer.com
Carnegie Center for Art & History
New Albany, Ind.
carnegiecenter.org
CenterStage at the Jewish Community Center
jewishlouisville.org/the-j/centerstage
Clarksville Little Theatre
Clarksville, Ind.
clarksvillelittletheatre.org
Commonwealth Theatre Center
commonwealththeatre.org
Derby Dinner Playhouse
Clarksville, Ind.
derbydinner.com
Filson Historical Society
filsonhistorical.org
Hidden Hill Nursery & Sculpture Garden
Utica, Ind.
hiddenhillnursery.com
Iroquois Amphitheater
iroquoisamphitheater.com
Kentucky Center for African American Heritage
kcaah.org
Kentucky Center for the Performing Arts
kentuckycenter.org
Kentucky Opera
kyopera.org
Kentucky Shakespeare
kyshakespeare.com
KMAC Museum
kmacmuseum.org
Louisville Ballet
louisvilleballet.org
Louisville Chorus
louisvillechorus.org
Louisville Memorial Auditorium
louisvillememorialauditorium.com
Louisville Orchestra
louisvilleorchestra.org
Louisville Palace
louisvillepalace.com
Louisville Theatrical Association
louisville.broadway.com
Louisville Visual Art
louisvillevisualart.org
Louisville Youth Choir
louyouthchoir.org
Louisville Youth Orchestra
lyo.org
Mellwood Arts & Entertainment Center
mellwoodartcenter.com
New Albany Riverfront Amphitheater
New Albany, Ind.
cityofnewalbany.com
Paul W. Ogle Cultural & Community Center
New Albany, Ind.
oglecenter.com
Pyro Gallery
pyrogallery.com
StageOne Family Theatre
stageone.org
Stephen Foster Story
Bardstown, Ky.
stephenfoster.com
Speed Art Museum
speedmuseum.org
St. James Court Art Show
stjamescourtartshow.com
TheatreWorks of Southern Indiana
theatreworksofsoin.com
UofL Theatre Arts Department
louisville.edu/theatrearts
West Louisville Performing Arts Academy
westlouisvilleperformingarts.org