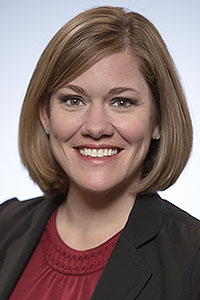 FORT MITCHELL, Ky. — The Northern Kentucky Tri-County Economic Development Corp. has announced the addition of Kimberly Rossetti as vice president, economic development. Rossetti will begin working on the Tri-ED team Aug. 19.
"As Tri-ED continues to expand, it is imperative to have someone with Kimberly's experience and skills to help us grow job development, talent, and improve the business environment in Northern Kentucky," said Lee Crume, Tri-ED president and CEO. "We look forward to working with you."
"Welcome to Tri-ED," said Bob Heil, chairman of the board. "We're excited you'll be bringing your successful economic development experience from Lexington to us in Northern Kentucky."
Rossetti joins Tri-ED with more than 14 years of economic development experience in the Lexington region. Most recently, Rossetti served as the vice president for economic development at Commerce Lexington Inc., the Chamber of Commerce and Lexington's economic development group. There, she recruited new companies to the city, helped existing businesses expand and worked to develop start-ups. She worked with a wide-range of industries and companies, including Tiffany & Co., J.M. Smucker Co., A&W Restaurants and Valvoline.
In Lexington, Rossetti also managed marketing initiatives for the regional economic development group, Bluegrass Alliance, and Lexington's economic development efforts.
Rossetti graduated from Penn State University with a bachelor of arts in public relations and advertising, and from University of Oklahoma's Economic Development Institute. Rossetti is also a member of the Kentucky Association for Economic Development, International Economic Development Council and Industrial Asset Management Council.
"With her extensive economic development experience, there is no better person for this role," Crume said. "I have no doubt Kimberly will succeed here at Tri-ED."