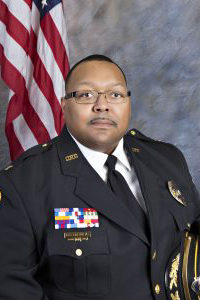 OWENSBORO, Ky. — Owensboro Chief of Police Art Ealum has been elected president of the Kentucky Association of Chiefs of Police (KACP).
Ealum, who last year was named KACP Chief of the Year, assumed the presidency in late July during the KACP Annual Conference, which was held in Owensboro. Chief Ealum succeeds Independence Police Chief Tony Lucas for the one-year term.
Ealum is the first African-American to serve as KACP president.
"It is an honor to serve as the KACP president and exceptionally humbling to serve as the first African-American KACP president," Chief Ealum said. "It truly is something worthy of celebration. I would be remiss if I didn't mention my brothers and sisters in the chief's association have never treated me as anything as a peer, mentor and a friend.
"This is truly a crowning moment in my career; however, this is not a career-defining moment," Chief Ealum said. "My personal philosophy is that you are only as good as what you did yesterday; therefore, you should continue to push forward, always striving to do bigger and better things. For me, those 'bigger and better things' consist of setting the example for others to follow, shattering those glass ceilings that still exist and being a catalyst for change."
Chief Ealum's priorities include maintaining the KACP's presence and voice in Frankfort to support and promote policies that safeguard the interests of peace officers, their families and all citizens of this great state.
"Our organization has to stay vigilant when it comes to legislation affecting our pension system," Chief Ealum said.
Chief Ealum said one of one of the most pressing issues facing law enforcement today is the recruitment and retention of qualified candidates.
"Most agencies across the country have experienced a decline in the number of people who are interested in pursuing a career in law enforcement," he said. "In my opinion, the private sector has been much more effective in attracting and retaining good employees with increased pay and benefit packages. "
A native of Evansville, Ind., Chief Ealum started working for the Owensboro Police Department in 1991. He was promoted to sergeant in 2002, lieutenant in 2004, captain/major in 2008, deputy chief in 2010, and chief in 2012.
Chief Ealum holds an Associate of Science from Owensboro Community and Technical College, a Bachelor of Arts from Brescia University, a Master of Science in Criminal Justice from Eastern Kentucky University, and is a graduate of the Administrative Officers Course from the University of Louisville's Southern Police Institute and a graduate of the National Organization of Black Law Enforcement Executives CEO Mentoring Program.
Chief Ealum is also a graduate of the following courses from the Department of Criminal Justice Training: Academy of Police Supervision, School of Strategic Leadership, and Criminal Justice Executive Development.