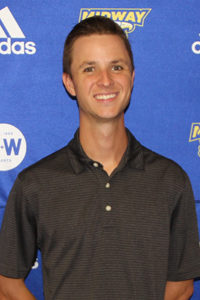 MIDWAY, Ky. — Midway University Vice President of Admissions and Athletics, Rusty Kennedy, has announced the hiring of Conner Smith at the new head coach of the Equestrian Western team.
"We are excited to welcome Conner to Midway University," noted Kennedy. "He will no doubt help build upon our rich tradition of success we have enjoyed with our Western program over the years."
Smith comes to Midway after serving as the assistant trainer at Carrie Grose Quarter Horses – an organization that specializes in the All-Around events for both the American Quarter Horse Association (AQHA) and the American Paint Horse Association (APHA). Smith assisted amateurs with coaching at home and in horse shows in his one year in Sumterville, Florida.
Smith gained coaching experience during his time within numerous 4-H clubs and open shows across North Carolina. During his internship with Lincoln County 4-H in Lincolnton, N.C., Smith coordinated, planned and managed 4-H events.
Smith also served as the assistant riding instructor at Abernathy Farm in Gastonia, N.C., in 2016. While there he developed lesson plans and instructed students on proper riding and showing etiquette.
"I am so honored to be the western coach at Midway University," said Smith. "Together we will also become better for our industry and have the determination to reach success."
Prior to getting his start in coaching and judging at various 4-H events, Smith enjoyed a very successful riding career at St. Andrews University Laurinburg, N.C.
In 2018 at the IHSA Nationals, Smith was named the AQHA/IHSA High Point Rider which was a two-phase competition where he competed in both horsemanship and reining amongst the High Point Riders of each IHSA region across the country.
Smith also won the IHSA National Championship in open horsemanship in 2018 where he competed against the top open horsemanship riders from across the country.
Smith graduated from St. Andrews University in May 2018 with a Bachelor of Arts in Equine Business Management.