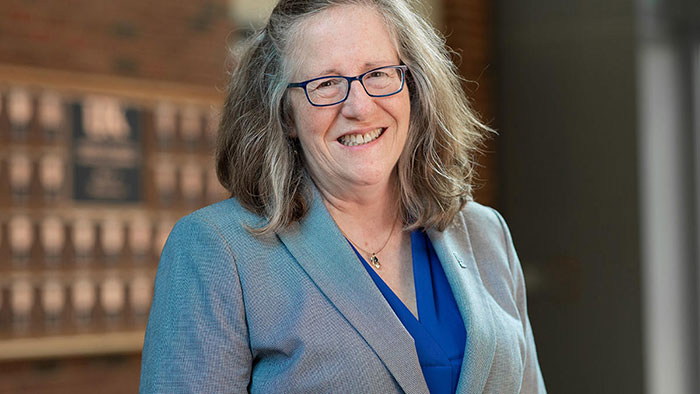 LEXINGTON, Ky. — Suzanne Smith, a University of Kentucky professor of mechanical engineering and director of the Kentucky Space Grant Consortium and NASA EPSCoR programs, will be one of three to be inducted into the Kentucky Aviation Hall of Fame Nov. 16 at the Aviation Museum of Kentucky in Lexington.
In 1980, Smith's career ambitions were academia; however, she knew aerospace R&D experience would enable her to better educate students planning careers in industry or in research. So, she went to work for Harris Corporation's Government Aerospace Systems Division. Her first assignment? Developing test-validated computer models for vibration of the fine guidance electronics of the Hubble Space Telescope to assess its launch survivability. From this work, themes in Smith's research career emerged: unique test-validated analysis of dynamics for historic projects in collaboration with aerospace industry leaders.
Validated analysis of the cross-country performance of the mobile ground communications station of the first U.S. unmanned aircraft followed before Smith returned for her doctorate in engineering mechanics from Virginia Tech. Her Ph.D. research was funded by NASA to determine the feasibility of using vibration measurements to locate damage in the backbone structure of the newly-announced International Space Station (ISS).
Smith joined the faculty of the UK College of Engineering in 1990 where she held the Donald and Gertrude Lester Professorship in Mechanical Engineering from 2004 to 2019.
In 1992, Smith received the prestigious National Science Foundation (NSF) Young Investigator Award to partner with industry and research nonlinear vibration interactions in large flexible structures like the solar arrays on the ISS. Smith partnered with Boeing, which was building the ISS at the time.
She and her students also joined the team led by Boeing that conducted on-orbit vibration tests of the Russian Mir Space Station. Smith started the new century continuing her research with unique flexible structures and testing in extreme or unusual environments, with both large and small companies. One Kentucky project applied aerospace research methods to understand cable vibrations of the Maysville and Owensboro stay-cable bridges, and their susceptibility to the potentially damaging rain-wind oscillations phenomenon.
Another project modeled the deployment of inflatable-boom spacecraft validated with microgravity experiments conducted by UK students known as the Weightless Wildcats. Smith and a multidisciplinary team of faculty researchers then began working on what would become the five-year BIG BLUE Mars Airplane program. The team's goal was to demonstrate the feasibility of inflatable wings for aircraft to explore Mars while providing an amazing multidisciplinary career-changing experience for over 300 engineering students. The team designed four different wings and deployment experiments, successfully conducting them at altitudes between 60,000 and 95,000 feet. These were cited for increasing the Technology Readiness Level (TRL) of deployable wings for planetary exploration. The achievement led to industrial collaborations from 2009-2012 that advanced deployable-wing technologies for various sponsors.
In 2010, Smith was selected to lead NASA's investments to develop aerospace research and workforce under the NASA Kentucky Space Grant and EPSCoR programs. Investing more than $20 million in Kentucky, these programs provide amazing experiences for students, along with key start-up support for early career faculty across Kentucky. Impacts for Kentucky include a high-tech workforce, research expertise, intellectual property, and aerospace start-ups including Space Tango.
Today, Smith and a multi-disciplinary team that has grown to span six states develop unmanned aircraft systems and technologies to address key scientific questions in atmospheric physics to enable accurate local-scale weather forecasting for sustainable agriculture, safe and efficient transportation, renewable energy optimization, and much more. Precision Meteorology—accurate local-scale forecasting—will impact lives and livelihoods in Kentucky, across the U.S. and worldwide.
Smith's husband, Bill, is a Kentucky native and UK graduate. He is a professor in the UK Department of Electrical and Computer Engineering. They have a daughter, Virginia, who is a Ph.D. student in Virginia Tech's aerospace engineering program.
The Aviation Museum of Kentucky is located at 4029 Airport Road, adjacent to Blue Grass Airport in Lexington.  It is the official aviation museum of the commonwealth as well as home to the Kentucky Aviation Hall of Fame and operates as a non-profit corporation.