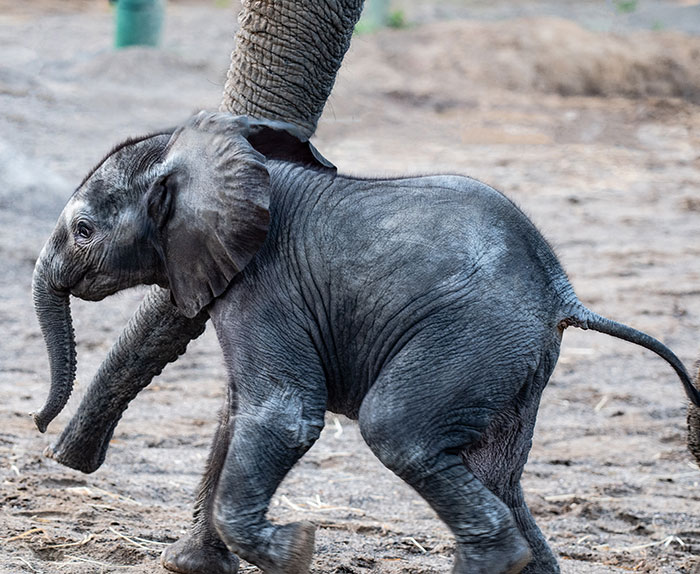 LOUISVILLE, Ky. — The Louisville Zoo welcomed a male elephant calf Aug. 2 to 33-year-old African elephant Mikki, and starting Monday, Sept. 16, the zoo will be soliciting names from the public in a naming contest presented by Norton Children's Hospital.
Mikki and the calf are on exhibit daily 10 a.m.-noon, subject to change while the acclimation process continues. Zoo guests can visit LouisvilleZoo.org/Mikki to see daily updates for elephant viewing.
Members of the public are encouraged to submit suggested names via the Zoo's website from Sept. 16–29 (midnight deadline); official contest rules and voting are located at LouisvilleZoo.org/Mikki. Suggestions will only be accepted online. Three names will be chosen as finalists by the elephant zoo keepers and the public will be invited to vote on their favorite of the three names between Oct. 7–20.
Guests visiting the zoo can vote by dropping coins or bills into a naming kiosk located on the zoo's front plaza. Voting will also be available online by way of donations made to support a favorite name (credit cards only). All proceeds from the naming contest will support the zoo's mission to Better the Bond Between People and Our Planet by providing excellent care for animals, a great experience for visitors, and leadership in conservation education and action.
The winning name and person who submitted that name will be announced the week of Oct. 21. The person who submitted the winning name will receive a prize basket with items from the zoo and Norton Children's Hospital along with a $25 gift certificate from Comfy Cow and a behind-the-scenes tour (for 5 guests) to meet the elephant calf and Mikki. The finalists will be awarded a prize basket containing items from Norton Children's Hospital and a $10 gift certificate from Comfy Cow.
"The Louisville Zoo is such a great place for families to come together and enjoy time with their children," said Emmett Ramser, chief administrative officer at Norton Children's Hospital. "We felt that being part of this contest was a way to celebrate families, but also celebrate one of the city's newest – and largest – additions."